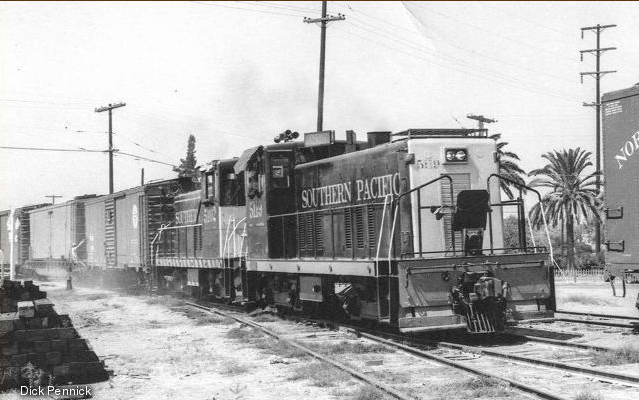 70 Ton Diesel-Electric locomotive
Former SP/SD & AE Ry. diesel locomotive No. 5119 was successfully delivered by highway trailer to our Pacific Southwest Railway Museum site at Campo on July 14th, 2011 and is presently being restored and readied for revenue service on its "home" railroad after a 44-year absence.
The 56-year old, 600 h.p., engine and its six sisters provided local freight service in around around the San Diego, Coronado and East County area for many years during the 1950s and '60s. It is in operating condition and is the last survivor of the group of seven that served on the local line. Nearly all of this historic engine has survived as it was built by General Electric's locomotive division at Erie, Pa. in 1955.
Specifications
Builder
General Electric  Co. Locomitive Div, Erie PA
Date Built
April 1955 Serial No. 32284
Model
B-B-140/140-4GE748, Phase II
Wt. in Working Order
137,600 lbs.
Wt. on Drivers, fully loaded
139,000 lbs.
Max. Operating Speed
55 mph
Max Track Curvature, light locomotive
75 ft. per rad.
Fuel Tank Capacity
500 gal.
Lube Oil Capacity
125 gal.
Starting Tractive Effort (30% adhesion)
41,300 lbs.
Brake System
14EL
Prime Mover
Cooper-Bessemer FWL-6T, 6 cyl. inline, 600 h.p.
Main Generator
GT-571
Traction Motors
Four G.E. 748
Gear Ratio
7:1
Wheel Diameter
36 inches
Axle Bearings
Solid
Multiple-Unit capable
Yes
Headlights
Twin Sealed-Beam
The General Electric Co.'s Locomotive Division introduced the "70-ton" model in 1946. This was one of G.E.'s first production locomotive models designed specifically for railroad use. Previously, the majority of G.E.'s locomotive production had relied on a pair of truck-type diesel engines in locomotives designed for industrial switching, and limited to 20-30 mph max. (the Museum's 80-ton G.E. switcher #7285, built in 1943, is an example of this).
The heart of the 70-tonner was the Cooper-Bessemer (C-B) diesel engine with six in-line 9″ x 10 1/2″ cylinders. This engine proved so successful that G.E. purchased the engine design from C-B.  These lightweight locomotives were not only more economical to use than a steam locomotive — which many of the 70-tonners replaced — but they were well-suited to the light-railed, spindly-trestled short-lines and branch-lines that were common during that time.
By 1959, demand for the 70-ton design had diminished, leading G.E. to discontinue production. However, G.E. parlayed that experience to venture into the mainline diesel locomotive market — at that time dominated by EMD, the Electro-Motive Division of General Motors — becoming the preeminent locomotive builder in North America.  After WW II, the Southern Pacific Railroad (SP) continued its program — interrupted by the War — of buying new diesel-electric locomotives for passenger, freight and switching service, gradually replacing its vast fleet of steam locomotives in the process. In 1949, SP decided it was time to replace the 50+-year old steam engines on its lightly-traveled and light-railed branch-lines. But the traffic was generally insufficient to justify upgrading the track structure and rebuilding/replacing bridges to support the weight of a common diesel locomotive of the time. So SP purchased ten of the new G.E. 70-tonners, initially assigning them to some of its light-rail branches in Oregon, replacing twelve steam locomotives of similar size. Following the success of this initial order, SP made repeat orders for the same model. By 1955, SP had amassed the largest fleet of them in the world, with a total of 21, numbered 5100 to 5120.
This allowed SP to retire or remove from service the last of its once-mighty steam locomotive fleet, except for the little narrow-gauge steamers that still toiled for a few more years in the remote Owens Valley of California until 1960. However, by the 1960s, SP had begun to upgrade or abandon the light-rail branches that were the home of the 70-tonners, and it finally retired the last one in 1977. Surprisingly, this one was the #5100, the very first one purchased in 1949! As of Feb., 2009, the only former SP 70-tonners known or that may still exist are: 5100, 5103, 5114,5117 and 5119.
In January, 1951, the SP transferred three 70-tonners from its Oregon branch-lines to its San Diego & Arizona Eastern Railway subsidiary in San Diego, again allowing SP to retire the last of its small, lightweight steam engines on that line. Eventually, more new and larger diesels allowed the retirement of all steam on the SD & AE, including the mainline through Campo to El Centro.
From 1955 to 1968, four more 70-tonners were rotated through San Diego, brought in "dead-intrain" over the SD & AE mainline from Imperial Valley through Carriso Gorge, Campo and Mexico. In the summer of 1955, the 5119 made this journey, the first and last time it passed through the tiny community of Campo.  The 5119 was often MU'd with one of its sisters — usually the 5102 — as it made its way out to Lemon Grove, La Mesa and El Cajon; down to Chula Vista for some center-of-street running to reach several produce packing houses; and the long haul down around the bottom of San Diego Bay and up the Silver Strand to Coronado and the Navy's historic North Island Naval Air Station, where the track literally ran through Coronado resident's back yards to reach the Naval Station gate! The 5119 pulled the last freight train on the 3rd Street, Chula Vista track before that track was abandoned about 1960. This track was originally constructed by the pioneer National City & Otay Railway in 1887.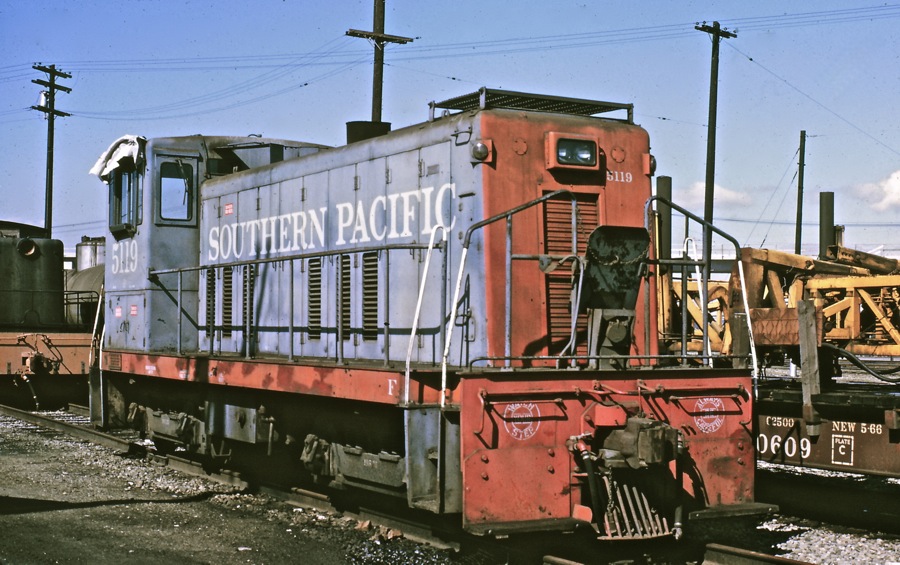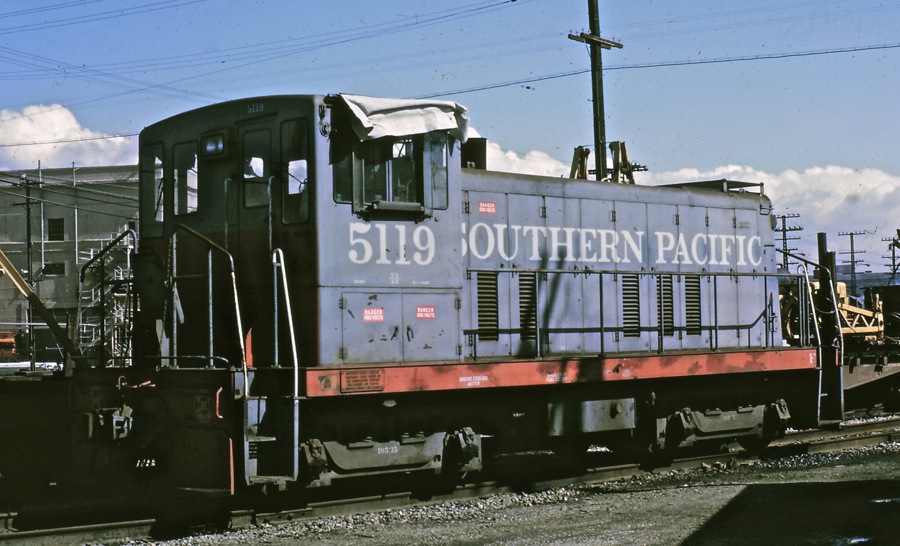 5119 Sits in West Oakland on March 1, 1969 after SP sold the locomotive back to General Electric. She awaits purchase from White City Terminal and Utility Co. Both above photos by Robert J. Zenk.
5119 was finally retired from the SD & AE in October, 1967, spending a brief 14-month stint switching passenger cars in Oakland during 1962-63, and eventually was sold back to G.E. at Oakland in 1968 and held for resale. When retired, the 5119 and its older sister, 5101, were the last 70-tonners on the SD & AE.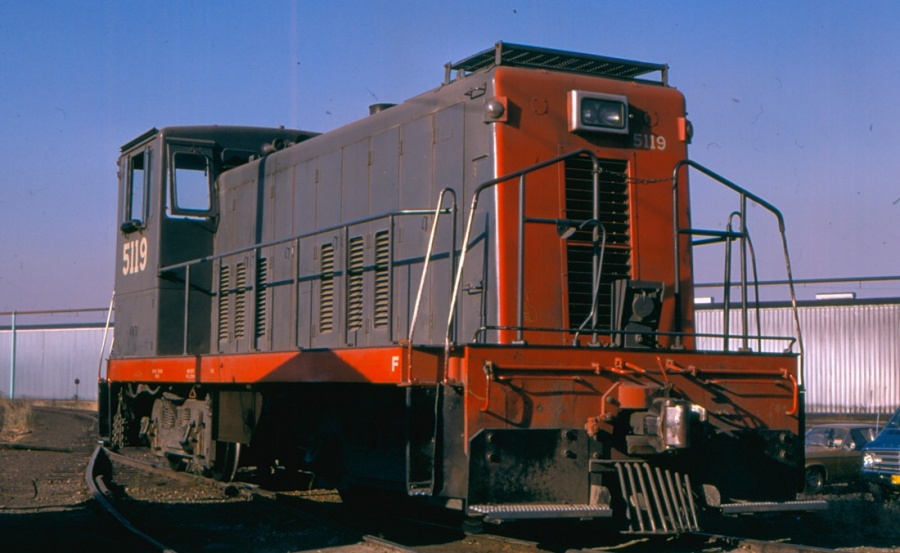 SP 5119 – Now owned by White City Terminal & Utility Company – rests in the yard to be called upon at a moment's notice. Photo by Todd Montgomery 7-17-1979
In June, 1975, the 5119 was sold to Oregon's White City Terminal & Utility Co. Railway near Medford, used as a backup to an SW1200 switcher. In 2005, 5119 was sold to Central California's Modesto & Empire Traction Co., a 5-mile long family-owned shortline at Modesto, Calif., where it joined 11 other 70-tonners until replaced by new 2,000 h.p. Railpower Technologies RP208D genset units in December, 2008. M & ET repainted 5119 in its crisp red & white color scheme and renumbered it 613.
Enter the Pacific Southwest Railway Museum Association. As far back as 2005, the Museum had expressed an interest in their #613 (ex-5119), should the railroad decide to eventually retire it. When a TRAINS Magazine article in January, 2009 reported that the M & ET had begun retiring some of the 70-tonners in favor of the new genset units, interest in the 613 was renewed. Exploratory conversations with the railroad's management determined that their funding grant through California's Carl Moyer Memorial Air Quality Standards Attainment Program, which enabled M & ET to purchase the cleanerburning genset units, was requiring them to destroy the engine blocks of the 70-tonners! This would have not only destroyed their historical integrity but rendered them inoperable and basically parts units or scrap. PSRMA did some investigating on their own and determined that the local air-quality agency had erred on the block-destruction interpretation and it wasn't necessary. Suddenly, M & ET had locomotives available for sale as operating units!
Conversations ensued and eventually the Museum's request for an outright donation was denied. The future looked bleak for the 613, unless the Museum could come up with the money to buy it outright. M & ET attempted to sell the 70-tonners, without success. In late 2010, all of the retired units were sold to rail equipment broker/seller Sterling Rail, Inc. of Austin, Texas, who continued to advertise the units in its slick-paper catalogs.
PSRMA renewed its request for a donation with Sterling, but again was rebuffed. Discussions continued. The Museum's Directors were finally presented with an ultimatum: cough up the money or the 613 — nee SP 5119 — is history. They agreed to raise the money if they could get agreement on the terms of payment acceptable to all parties. Sterling rejected the initial terms. More discussion. Finally, a fair price was agreed on, and preparations were made to somehow come up with the money in the time frame we were given.
At the 11th hour, a long-time Museum member and supporter decided PSRMA needed to bring the chicken home to roost and ponied up the full purchase price as a donation! Due to this extraordinary largesse, the only remaining task was to arrange for trucking the unit to San Diego and finding a way to pay for that.  5119 made it to Campo on July 14, 2011 and was unloaded off of a low-bed trailer and back onto its own wheels shortly after 8:00 pm under beautiful purple evening skies.
| | |
| --- | --- |
| SP # 5119 on Interstate 8 near Campo | Arriving at Campo |
| After hours of setup, offloading begins | Back down on her own wheels |
Photos by John Wright
Shortly after SP 5119's arrival at Campo, it doubleheaded a special train to Division with SD&A 7285.  Since then, the locomotive has been used for switching cars around the railyard at Campo and as stand-by power for the Museum's North Pole Limited trains.  During 2014, 5119's oil system received a partial overhaul to help fix some minor leaks.  After the 2014 North Pole Limited season, 5119's fuel injectors were pulled out and repaired.  In 2016, M&ET's decals were taken off her sides and "SP 5119" was applied below her cab windows in Southern Pacific's standard Railroad Roman script.  When time and funds permit, SP #5119 will be fully restored to her original as-delivered state with a proper paint job in SP gray with silver accents and several external modifications to correct the modifications she underwent during her service life.
This historical sketch was first assembled by R. E. Pennick from information provided by P. A. Copeland, Dan Robirds, Diana Hyatt, Dick Pennick, "Southern Pacific Motive Power Annual – 1971" (Strapac), "San Diego & Arizona" (Hanft),"Rails of the Silver Gate" (Dodge), TRAINS Magazine(Kalmbach), interviews with 613's owners, and other sources.  Updated by M. Caestecker.