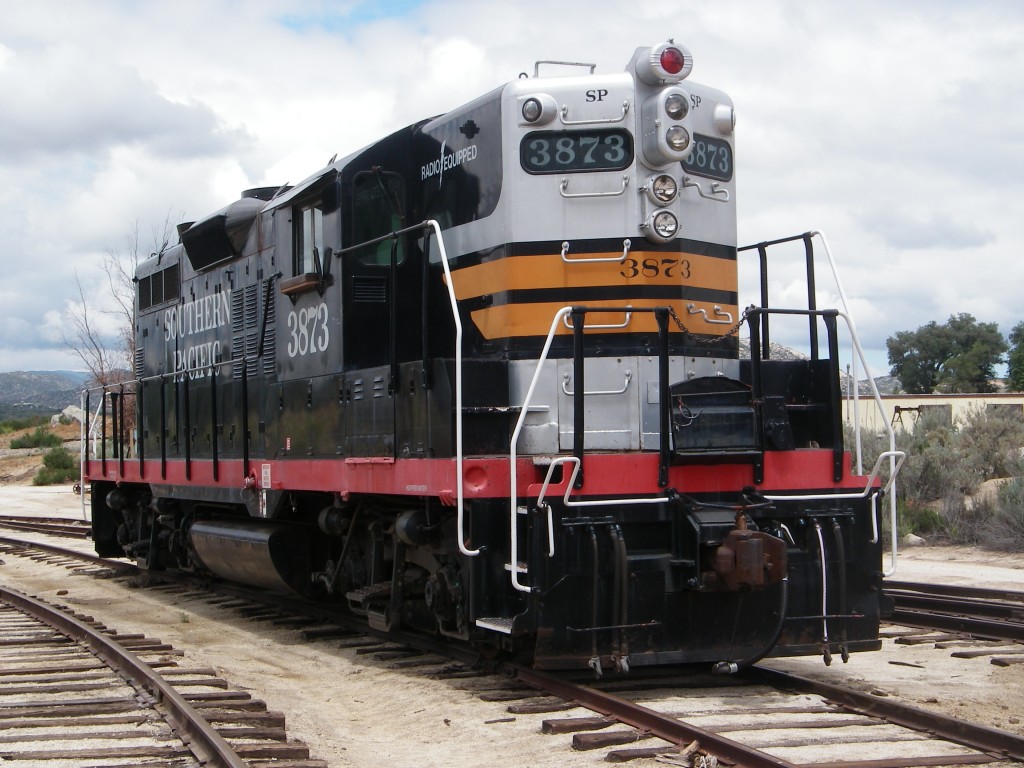 A classic GP9 (General Purpose) Diesel similar to SP GP9s that ran on SP's San Diego & Arizona Eastern subsidiary from the late 1950s until September 1976, this SP Diesel carried the name of SP's Cotton Belt subsidiary its entire life.  Built by Electro-Motive Division of GM, LaGrange,IL; February 1959
Construction #25020, it was originally a GP9 in order #5589-5. It has a 16-cylinder 567C Diesel engine similar to the 567B used in the museum's EMD-built MRS-l's, but rated at 1,750 hp, and a traction motor on each of its four axles. The high short hood "Geep" weighs 248,000 lbs. (124 tons) with a full load of sand and water and two crew members. It has dynamic braking and is Multiple-Unit capable.
The 1,561-mile St.Louis-Southwestern Railway (Cotton Belt) became SP's principal subsidiary in 1932, but continued lettering rolling stock "Cotton Belt". SSW motive power was used system-wide on the SP, and SSW #3873 operated extensively on SP lines in California.
The locomotive was delivered in February 1959, and was numbered SSW #830 in SSW Class Z-17. It was painted in SP's standard Lark Grey and Scarlet, but had yellow handrails per SSW practice of that era instead of white ones, as on SP units. "Cotton Belt" and its number were painted on its sides in white, and its number on the pilot beam. "Radio" and a lightning bolt (not universally applied) was also on its short hood. The unit's class was later changed to SSW Class DF-612. In 1965 the number was changed to SSW #3651, and it was placed in SP Class EF418C-2, for EMD, Freight, 4 axles, 1,800 (hp to the nearest hundred), Cotton Belt, 2nd series.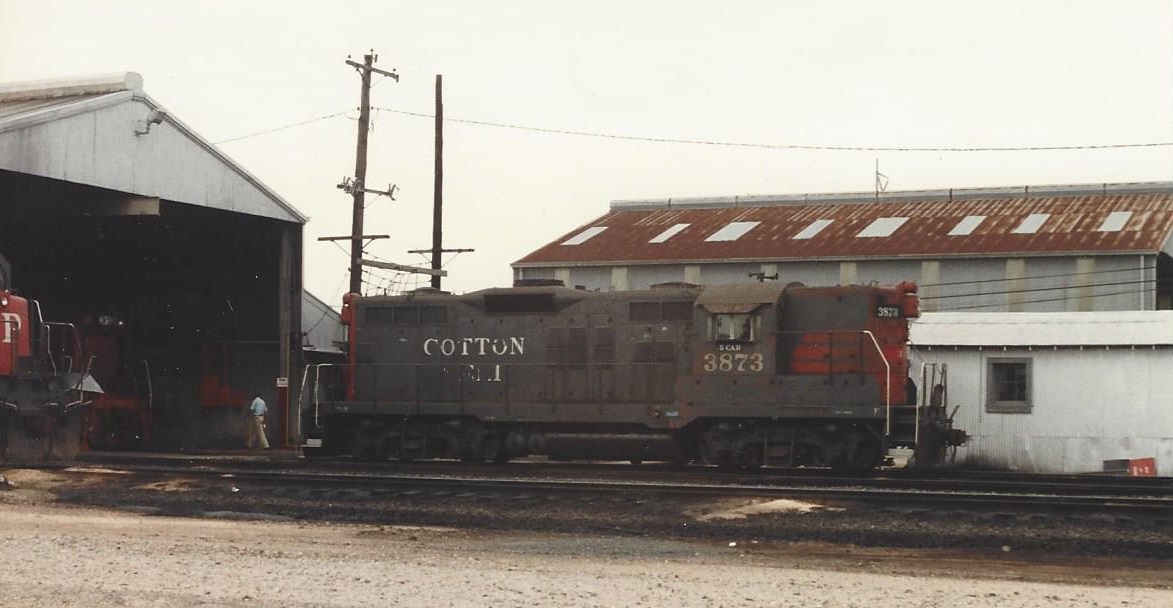 SSW 3873 sits outside the shop at Lafayette, LA circa 1988. Photo by Lee A. Gautreaux.
On July 18, 1977 the locomotive was returned to service following a rebuilding at SP's shops in Sacramento,CA. This affected mainly air filtration and electrical equipment. Its SP Class was changed to EF418CR-4, for Rebuilt; the model designation to GP9R; and was renumbered SSW #3873. It was then purchased from SSW by the SP Equipment Company and leased back to the SSW. On April 22, 1994, it was in a derailment while enroute from San Jose to Oakland, CA.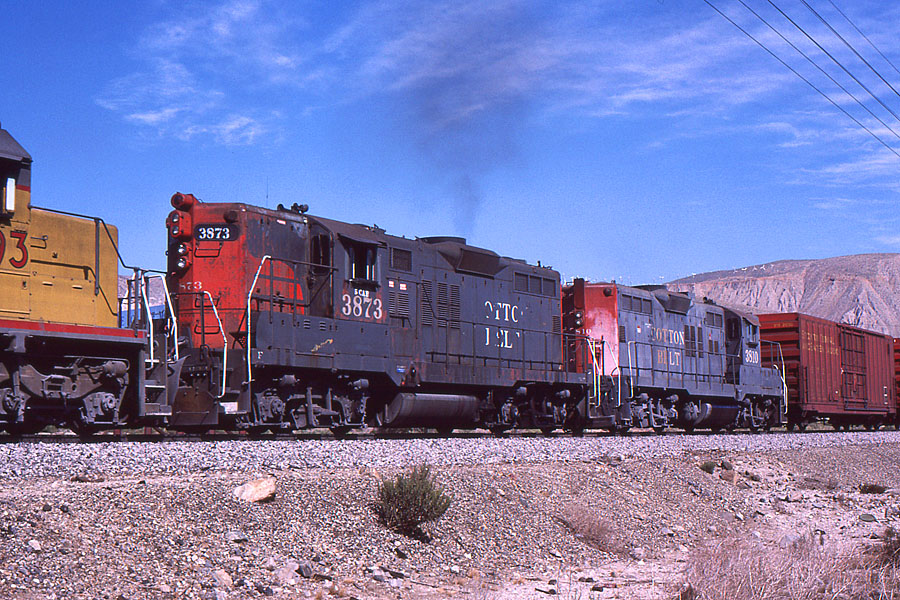 SSW 3873 serves as a head-end helper on a westbound manifest train on the east side of Beaumont Hill in October of 1987. Note the "5 CAB" stencil above the number referring to its ability to accommodate a 5 man crew (part of the elimination of cabooses). Photo by John L. Shine
The donation of this locomotive was authorized in 1997 by then-SP President Jerry Davis, later President of the Union Pacific, at the request of SDRM Steam Team member Fred Perry. It was in the SP yards at Roseville, CA and was sent to Colton, CA, arriving April 15th. It was brought to San Diego by the Santa Fe May 22nd, and by the San Diego & Imperial Valley to its San Ysidro shops, where it was refurbished, repainted, and relettered.
SP 3873 gets repainted
SSW #3873 was acquired for use on the SDRM's SD&A demonstration railway, so has been painted in the 1950s SP "Black Widow" scheme (which it never wore) to match the museum's MRS-1 SD&A #1809, with which it can MU-operate. It was lettered Southern Pacific #3873 in accordance with terms of the donation, also appropriate due to the history of SP GP9s on the SD&AE during its long SP ownership. SP #3873 was transferred to the SDRM June 25,1997, taken to Campo by the SD&IV, and has begun a new career pulling passenger trains!
Pacific Southwest Railway Museum Association. W. Schneider