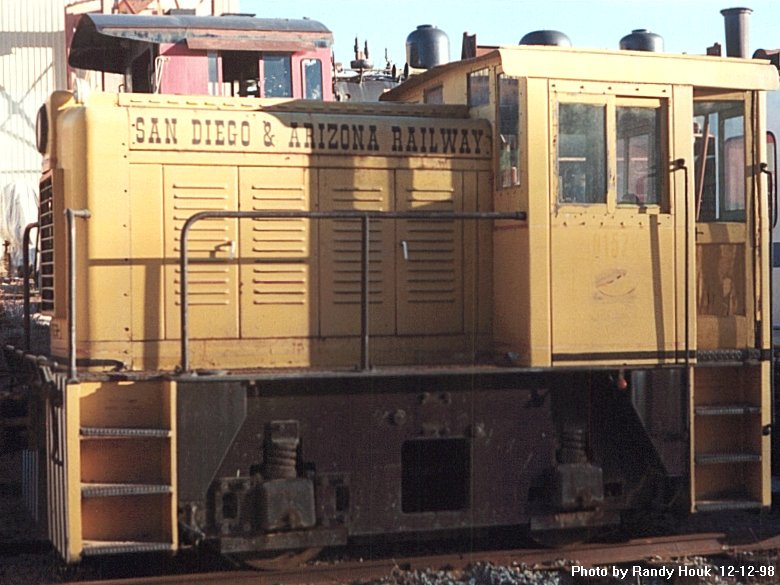 Smallest of the museum's locomotives, this 25-ton Diesel switcher was the last standard-gauge Porter delivered to California and its last operating one, and worked only in southern California.
Built by H.K. Porter, Inc. Locomotive Co., Pittsburgh, Pa.; March 1948
One of only nine 25-ton Diesel-electrics built by Porter (all sold to industrial firms), builder's #8157 was probably one of six built for stock in 1947-48. It's one of only 26 four-wheel Diesels Porter made from 1943 to October 1950, when it ended locomotive making and sold its designs to the Davenport Locomotive Works.
Builder's #8157 weighs 50,000 lbs. (25 tons), has a Cummins HBI 600 150 HP Diesel engine, a Westinghouse 14434 traction motor on its rear axle connected with a chain drive to its non-motored front axle, a Westinghouse 189R7 300-volt generator, a 22:1 gear ratio, and 33″ wheels in an Al arrangement. It has a sculptured box mount for its headlight, with two small lights flanking it; a rear headlight on the cab; a smaller light on the rear of the cab roof; and wooden cab doors.
Delivered to the National Supply Company in Torrance, Ca., it was numbered NSC #1. Later, NSC became a division of ARMCO, and the Diesel was numbered NS/ARMCO #1528. By 1983 it had become surplus. With rail buff/author Joe Strapac as broker, ARMCO #1528 was sold to Robert W. Babcock of Orange, Ca., who immediately leased it to the Mitchell Company, which had contracted to rebuild storm damaged trackage in northern San Diego County on the Marine Corps Base at Camp Pendleton, Ca. and the adjacent Naval Weapons Station Annex at Fallbrook, and needed a small Diesel that could be trucked in. It was repainted, lettered for the Mitchell Company, and renumbered #8157X (its builder's number) by owner/rail buff Babcock. It was used with a PSRMA ballast-carrying hopper and a storage car until repairs were completed in the spring of 1985. A photo of #8157X in its Fallbrook service appeared in a 1985 Pacific News issue.
On April 26, 1985 the switcher was leased by Babcock & R.W.B. Party Props to the PSRMA for $ 1 a year. Babcock had it repainted yellow with red pinstripes; black handrails, steps, and underframe; and black-&-white safety striping on its lower end plates. "8157" was painted on the cab sides and rear, "San Diego & Arizona Railway" on its upper hood sides, and SD&A decals were affixed beneath the cabside numbers. Added in very small letters were "RWBX" & "Xl528" on the rear of the cab, and "Leased by North County & Pacific Creek Railroad, Fallbrook, Ca." on the cab sides. SDA #8157 was trucked to Campo in 1985, and was donated to the SDRM in December 1988 by Robert & Lori Babcock. Designated the museum's shop switcher, it's now kept near the museum's carbarn at Campo.
1993 Pacific Southwest Railway Museum Association. W. Schneider