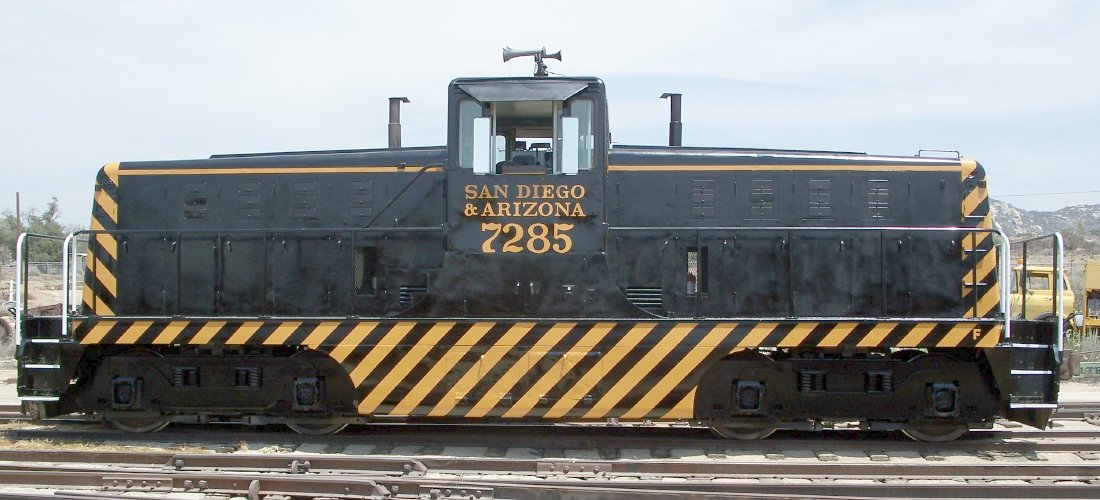 This 80-ton GE centercab switcher served at the Marine Corps Base at Camp Pendleton for many years, and is a war and flood veteran!
Built by General Electric Corporation, Erie, PA; March 13, 1943
Builder's # 17892 has long, high hoods with six doors (four with "buttonholes") on each hood side, and "porches" on both ends. It was one of 205 Spec. RY24151 locomotives built from February 1941 to January 1954. It's an Early ("Wartime") 80-tonner, not a 65-ton one with thick deck plating! It originally had two-250 hp Cummins 1,000 rpm LI600 diesel engines, a GHM1133 traction motor on each of its four axles, two GT549 generators, 38″ wheels, and a 70:15, one-step gear ratio. Rebuilt in 1986 with two 335 hp @ 2100 RPM Cummins NTA-855-L4 "big cam" diesels, it now has a 26L pressure-maintaining brake system, sealed-beam headlights, Timken roller bearings, bullet-resistant window glass, and a rooftop flashing light. The cab's controller panel is EMD part #9091052, serial #85C-13, and the speedometer is Vapor Corporation serial- #868-0021. It's 41′ 8″ long, 9′ 9-1/4″ wide, 13′ 5-1/2″ high, and has a 400-gallon fuel tank.
Costing $91,010, it was assigned to the U.S.Army and went to the government-owned New River Ordnance Plant at Radford, VA, operated by Hercules Powder Company. Its original number is unknown, but it was renumbered Army Transportation Corps #7285, a number it kept when sent to the Volunteer Army Ammunition Depot in Chattanooga,TN ("The Volunteer State") about 1946. It was put on sale in 1965, then transferred to the U.S. Marine Corps at Camp Pendleton, CA. Numbered USMC #248391, it was painted in Marine Corps green with USMC emblems, and operated by civilians in the Traffic Management Office. On September 30, 1985 it was shipped on a flatcar to the Chattahoochee Locomotive Company in Cornelia, GA, and rebuilt into essentially a new locomotive under the SLEP program (Service Life Extension Program). It was repainted Safety yellow with black stripes & lettering, and completed in September 1986. Enroute back to Camp Pendleton, it was kept for a year at the Marine Corps Supply Center Annex at Yermo, CA, where its marker lights were removed.
Based at Camp Pendleton's Chappo area, #248391 moved trains of equipment during "Operation Desert Storm" in 1990-91. The train crew of conductor, engineer, and two brakemen had other duties when not running trains. In January 1993 a levee on the adjacent Santa Margarita River gave way, and the ensuing flash flood reached the Diesel's deck plates, covered the traction motors, and left much debris on it. Although cleaned up, its traction motors were not repaired, and USMC # 248391 was declared surplus. In December 1993, retired Army Lt.Colonel Bill Niedrich arranged its donation to the SDRM and donated the $250 surplus cost plus other fees. SDRM and Motor Transport Museum of San Diego members and Base personnel removed the trucks, took them to San Ysidro for repairs, and returned and replaced them. USMC #248391 was then taken by the Santa Fe and SD&IV to the SD&IV shops in San Ysidro, where the traction motors were removed and repaired by SDRM members. The locomotive was taken to Campo June 22, 1995 by the SD&IV, and is now in service on the museum's demonstration railway as motive power on shorter and lighter trains for economy.
In 2007 the beacon was removed, and its yellow paint replaced with a beautiful "Tiger Stripe" early Southern Pacific Diesel scheme. This project was headed by Larry Rose and Ken Helm, with help from lots of other PSRM volunteers.  SD&A 7285 is now the primary power for the Golden State excursion trains and will be repainted with a fresh "Tiger Stripe" paint scheme when time and funds permit.