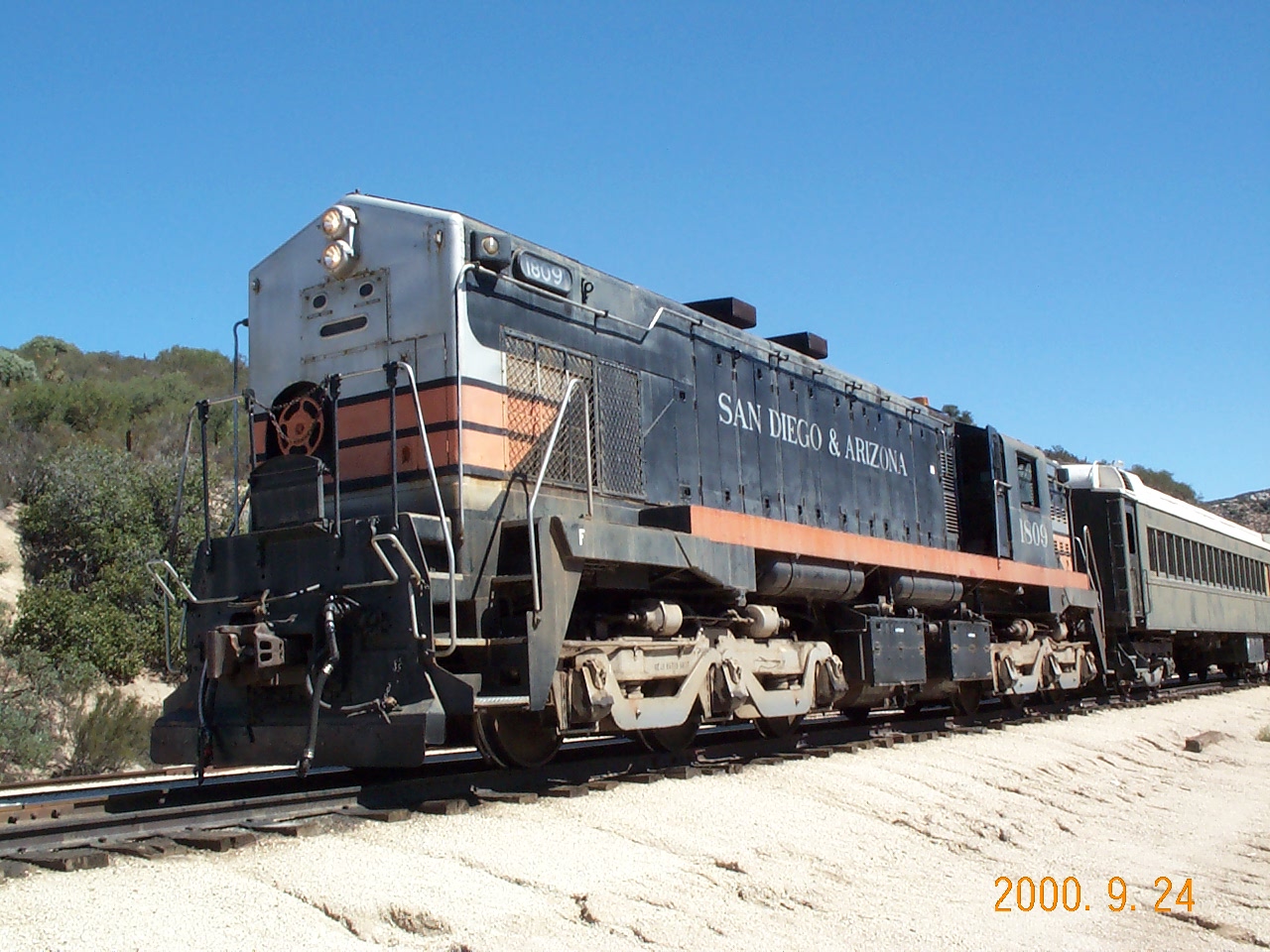 Diesel Electric Locomotive
This ex-military locomotive with multi-gauge trucks has seen arctic winters & desert summers, stood idle more than used, was retired unserviceable, and was restored by the museum to operating service.  Built by Electro-Motive Division of GM, LaGrange, IL; March 1952.
This six-axle MRS-1 (Military Road Switcher) was built for the Army Transportation Corps during the Korean War, with multi-gauge trucks (56 1/2″, 60″, 63″, 66″), in case war expanded to the Soviet Union, with its wide-gauge railways. EMD built 13 MRS-1 units (the museum owns two); ALCo/GE built 83 (the museum owns one). Builder's #2041 was numbered USA #B-1809, the "B" indicating it has a train-heating steam boiler for passenger service. It weighs 240,000 lbs. (120 tons); is 57′ 5″ long, 9′ 8″ wide, and 13′ 6″ high; has 40″ wheels in C-C arrangement; and low-clearance peaked long hood & cab roof. It's powered by a 16-cylinder 567B engine, originally with 1,600 hp at 800 rpm; has D27 traction motors on all six axles; D12 generators; a 60:17 gear ratio; tractive effort of about 72,000 lbs. at 30% adhesion; top speed of 77 mph; a 1,200-gallon fuel tank; and is MU-capable. It was black with yellow trim, white lettering, and Transportation Corps insignia. Many parts are the same as those of EMD's GP/SD-7 locomotives.
USA #B-1809 was sent to Marietta Air Force Station, Marietta, Pa. and then leased to the government-owned Alaska Railroad as ARR #1809 for cold-weather evaluation from November 1952 to November 1955. It then went to the Tooele Army Depot or its rail storage subsidiary at Hill Air Force Base in Utah, where its cylinder bore and piston size were increased, giving it a slightly higher hp rating. The change in type of power packs caused some to call it an "MRS-3", but no such official designation exists. In 1969 it was reactivated, transferred to the Air Force (not repainted) and sent to Vandenberg AFB near Lompoc, Ca., moving supplies for NASA's proposed Manned Orbiting Laboratory (MOL) program at South Vandenberg. Later it moved booster components for the Air Force's Titan ICBMs from an SP connection a few miles south of Surf, Ca. to South Vandenberg's SLC-5 complex, operated by Chemical Systems Division of United Technologies, a civilian firm. Rarely used, it was kept in the open near the Pacific Ocean, and its body panels & electric systems deteriorated badly. Replaced in 1979 by ALCO MRS-1 #2104 (now also museum-owned), USAF #1809 was sent to the National Transportation Group, Rail Service Division storage yard at Hill AFB near Clearfield, Ut. (under Tooele Army Depot command) for disposal.
In 1981 the museum sought two low-mileage MRS-1 locomotives. Only EMD units were available, as the ALCo/GE- built type were then classed as "strategic material". In early 1982 USAF #1809 was donated to the PSRMA after being released as surplus by the National Air Force Rail Item Manager. It cost $250 in administrative charges, donated by PSRMA Life Member William Niedrich and his wife Julia, plus charges for journal repacking and air tests. Taken free with EMD MRS-1 USA #1820 (also donated) by UP, Santa Fe, & SD&AE to San Ysidro, Ca., it came to Campo in August 1983 on the museum's first "Great Freight". Restored by museum members and first started up on December 31, 1984, it was painted in the "black widow" scheme of the first SP diesels used on the SD&AE in the 1950s. Numbered SDA #1809 for use on the museum's railway, it powered the first Miller Creek trains in January 1986.  Today, the locomotive awaits a full restoration when time and funds permit.