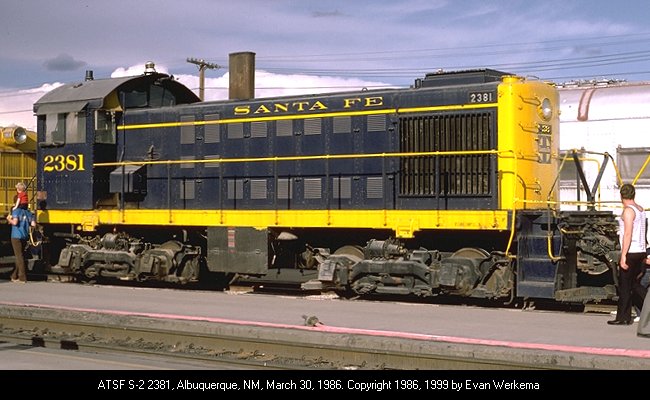 Diesel-Electric Switcher
ALCO S-2
One of the most popular switching locomotives in North America during the 1940s and 50s was the ALCO-GE Model S-2 (specification E1540). 2502 of these thousand-horsepower units were built from April 1940 through December 1949. Based on earlier 660HP and 1000HP switchers built by ALCO, the S-2 was similar in many respects to its "High Hood" predecessors, but included improved electrical gear and engine cooling. S-2 switchers used "Blount" trucks designed for switching cars in rail yards which were flexible and operated well, but not suitable for the higher speeds and were later found difficult to maintain. The S-2 was powered by a 1000HP Model 539T engine. This particular model had 6 cylinders and was turbocharged. Each locomotive weighed 230,400-lbs. and had 57,600-lbs. of starting tractive effort. The gear ratio was 75:16 and all the electrical gear was provided by General Electric. 2381 carries ALCO-GE serial 77928 and built with engine block 5537.  The Santa Fe, Southern Pacific, Union Pacific and Western Pacific all used S-2s as part of their fleets starting in the early 40s.
The Santa Fe owned 70 S-2 switchers numbered 2322 through 2391. Built in Schenectady, New York, ALCO-GE delivered S-2s to the Santa Fe from August 1942 through December 1949. ATSF 2381 was acquired in the very last batch of S-2s to be purchased by the Santa Fe and was among the very last of the model built. 2381 left Schenectady on Dec. 13, 1949 as part of order S-3123-3 and sales order S.O. 20370.  The locomotive was delivered in Santa Fe's black, white, and silver "Zebra Stripe" paint scheme.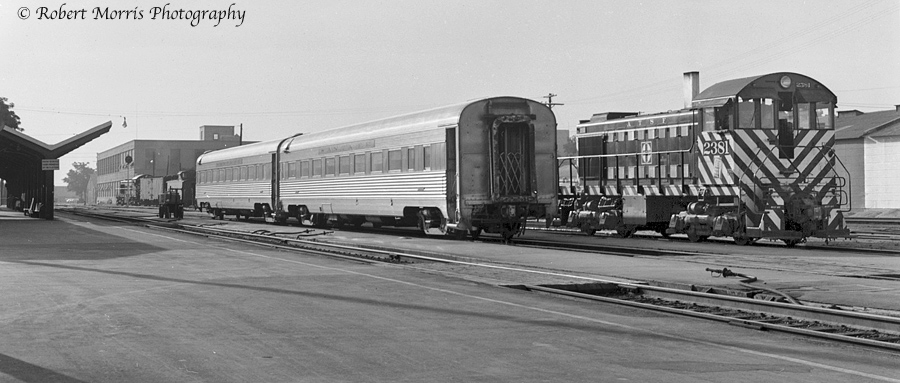 ATSF 2381, pictured here in Bakersfield, CA in the early 1960s, still sports her as-delivered paint scheme.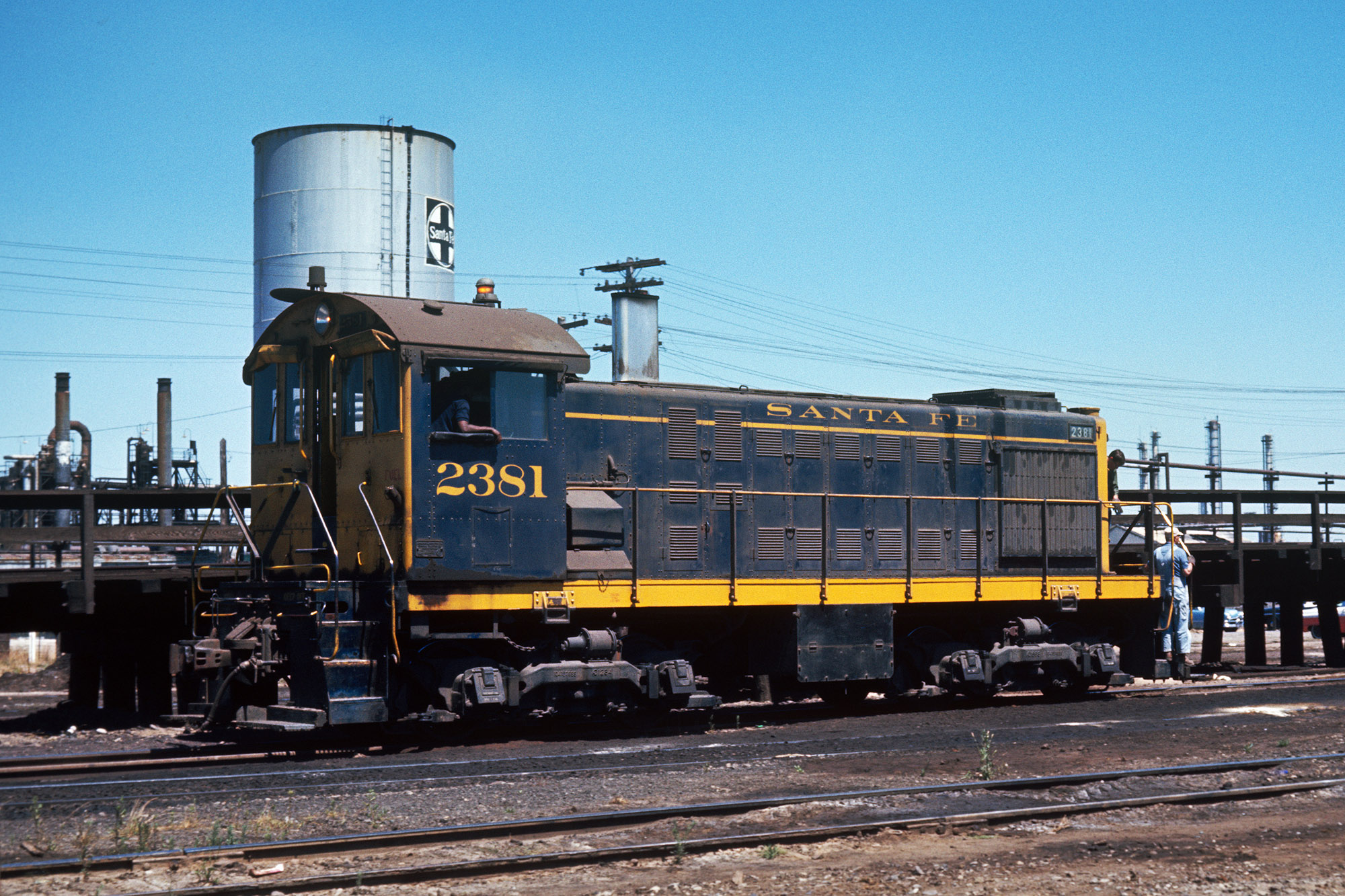 Santa Fe 2381 passes underneath the water tower at Richmond, CA with brakeman and engineer manning their stations. Western Railway Museum Archives. Jeff Moreau collection. Photo by Richard E. Buike on June 30, 1968
In January of 1950, 2381 was assigned to Santa Fe's Missouri Division in yard and local service.  The next year, the locomotive shows up on Santa Fe's Eastern Division roster.  By 1959, the locomotive had been transferred to the Valley division in California's Bay area where it lived out a significant portion of its life.  Our research indicates that the locomotive was stationed at Richmond, CA during 1968 and 1969
All of the Santa Fe's ALCO switchers were assigned to the Western sections of the country and were staples for years in the yards all around California including Los Angeles, San Diego, San Bernardino, Barstow, Bakersfield, Fresno and Richmond. ATSF 2381 spent many years in San Diego. Duties included the transfer haul from the San Diego yard down to National City and, in the late 1940's, helper service pushing freight trains west (north) up to the Miramar summit from San Diego. The locomotives stationed in San Diego were on long term assignment, but would rotate out to San Bernardino for mechanical work. Joining the five or six S-2s usually assigned to San Diego were a GE 44-tonner, RS1s and some EMD 600HP switchers.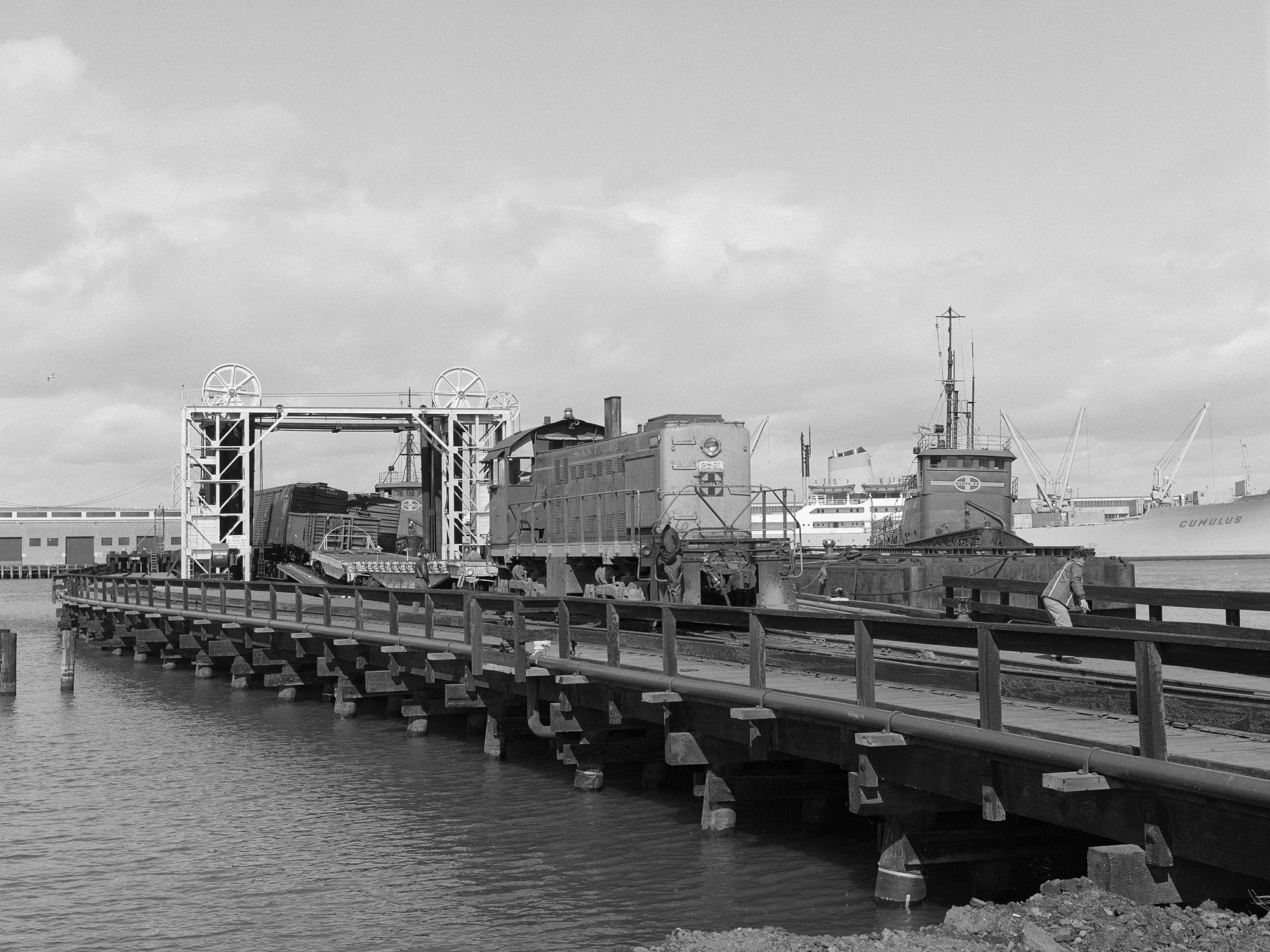 Switching at China Basin slip in San Francisco, CA. Santa Fe tugs John R. Hayden (left) and Paul P. Hastings stand by near barges 6 and 8. Western Railway Museum Archives. Jeff Moreau collection. Circa March 1971.
Another great view of switching cars off of barge 8. Western Railway Museum Archives. Jeff Moreau collection. Circa March 1971.
As switching needs declined and needs for higher horsepower units to move the longer and heavier cars increasing, the 1000HP switchers were replaced. Some S-2s moved east to run out their last days, others were retired in California. A majority of Santa Fe S-2s were sold for scrap or used as trade-in credits to purchase new locomotives throughout the 1970s. No. 2381 was retired June 8, 1977 and placed in storage at the Santa Fe shops in Albuquerque, NM. Santa Fe donated 2381 to the California State Railroad Museum in Sacramento in March of 1986 along with 12 other locomotives from the Albuquerque roundhouse.  The donation collectively became known as the "Santa Fe Collection".  The collection sat outdoors and largely unprotected at CSRM's Sacramento Shops before 2381 was donated to PSRMA in early 2007.
In May 2007, ATSF 2381 was loaded onto a flat car and prepped for its journey from Sacramento to Campo by rail.  On June 7, 2007, the locomotive departed Sacramento via the UP to Stockton and then the BNSF to San Diego.  Shortly thereafter, the locomotive was moved by SDIY to San Ysidro and CZRy across the border to Tijuana.  2381 then sat in Tijuana for several weeks as Mexican railroad officials decided whether they would allow the locomotive to travel through Mexico to get to the Museum in Campo.  Ultimately, the locomotive was rerouted back to the US, through UP's West Colton yard, then on to El Centro where the locomotive was again handed over to CZRY which brought the locomotive through Carriso Gorge to the Museum in Campo.
More Photos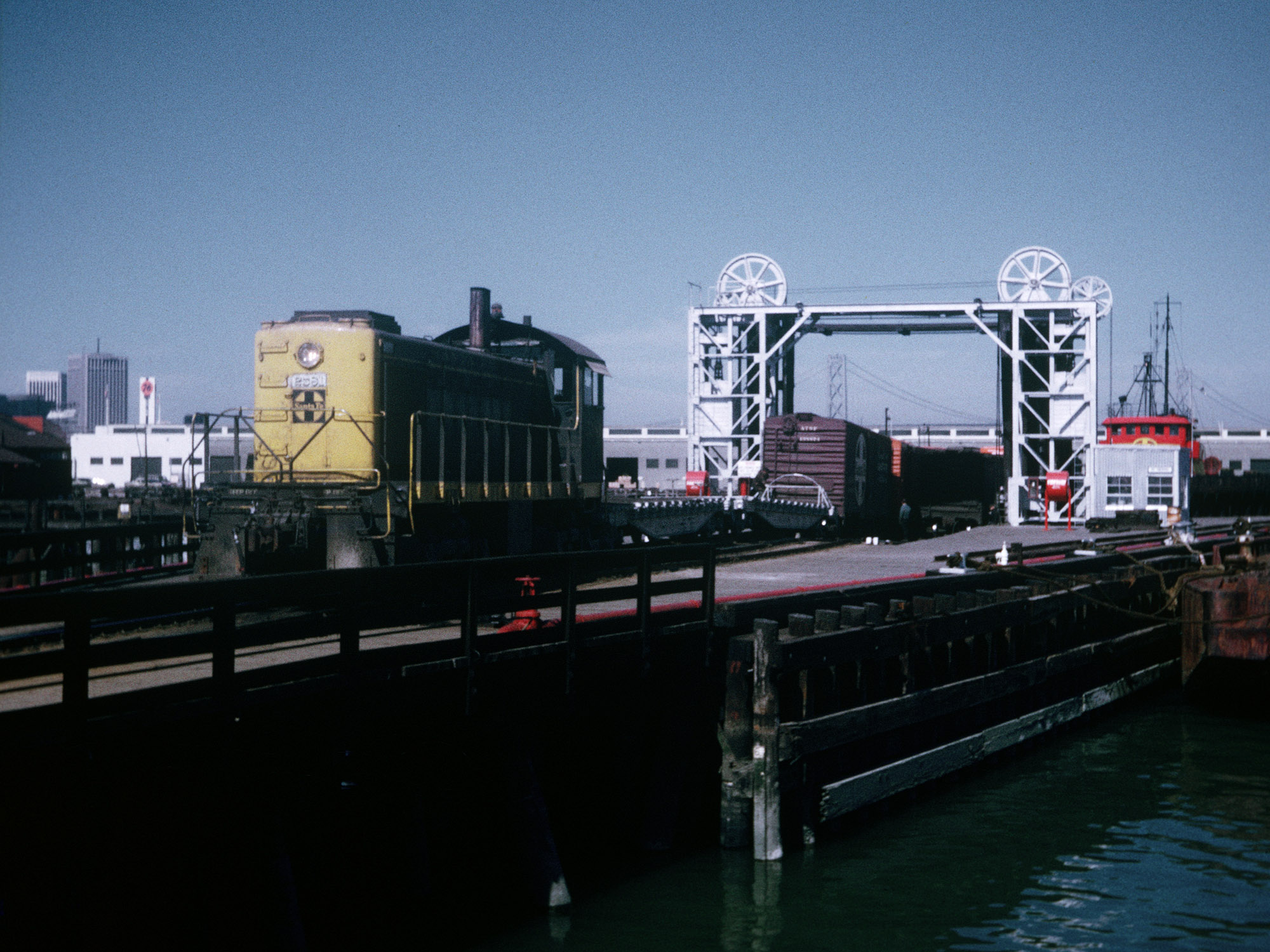 Switching at China Basin slip in San Francisco, CA. The tugboat John R Hayden is barely visible behind the head frame at the right of the image. Western Railway Museum Archives. Jeff Moreau collection. Processed March 1971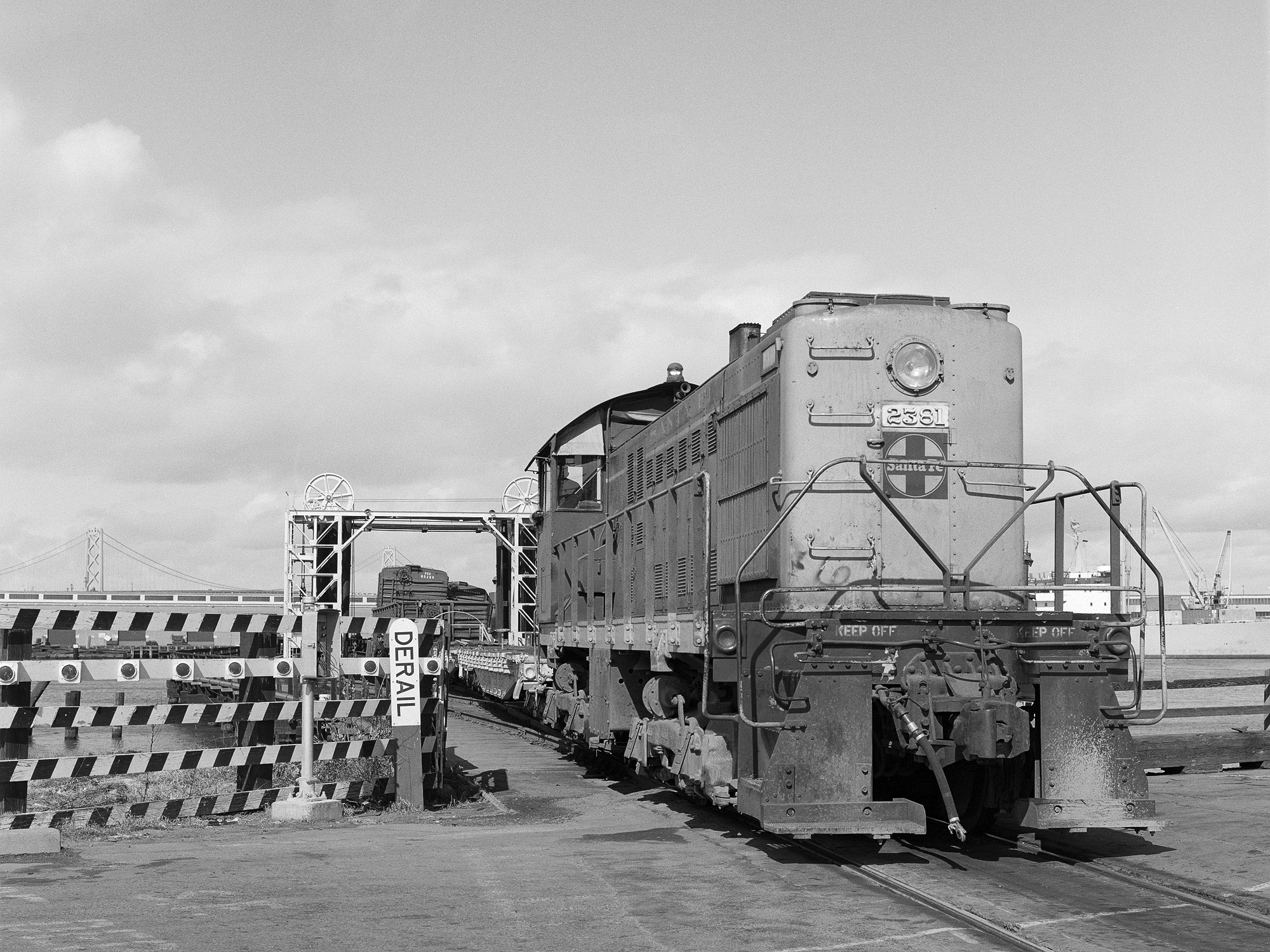 The first in a two-photo set shows 2381 pushing a cut of cars onto the barge at the China Basin slip. Western Railway Museum Archives. Jeff Moreau collection. Circa March 1971.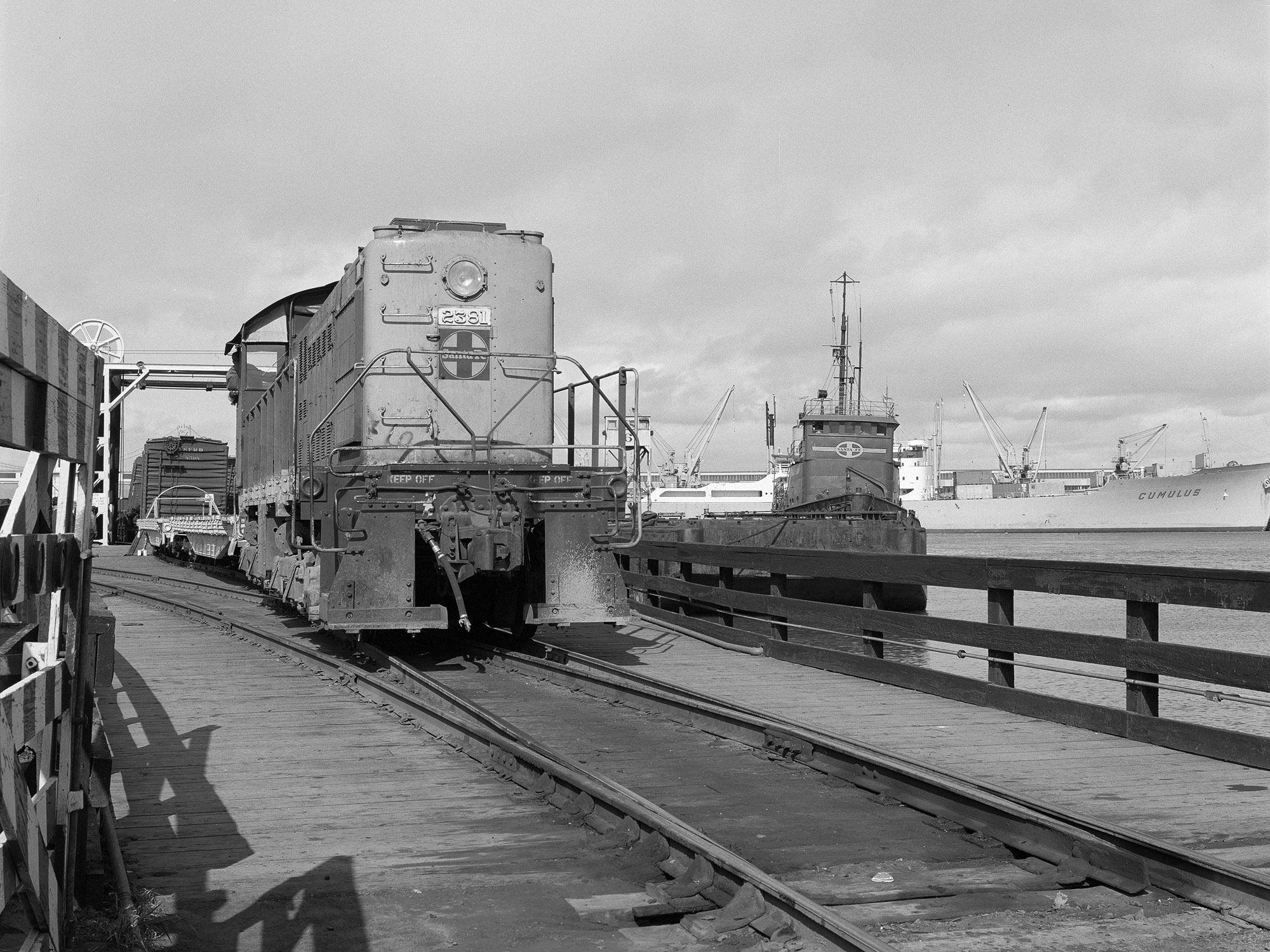 The photographer repositions closer to the car float apron while 2381 passes by the tug Paul P. Hastings as she pushes freight onto barge 8. Western Railway Museum Archives. Jeff Moreau collection. Circa March 1971.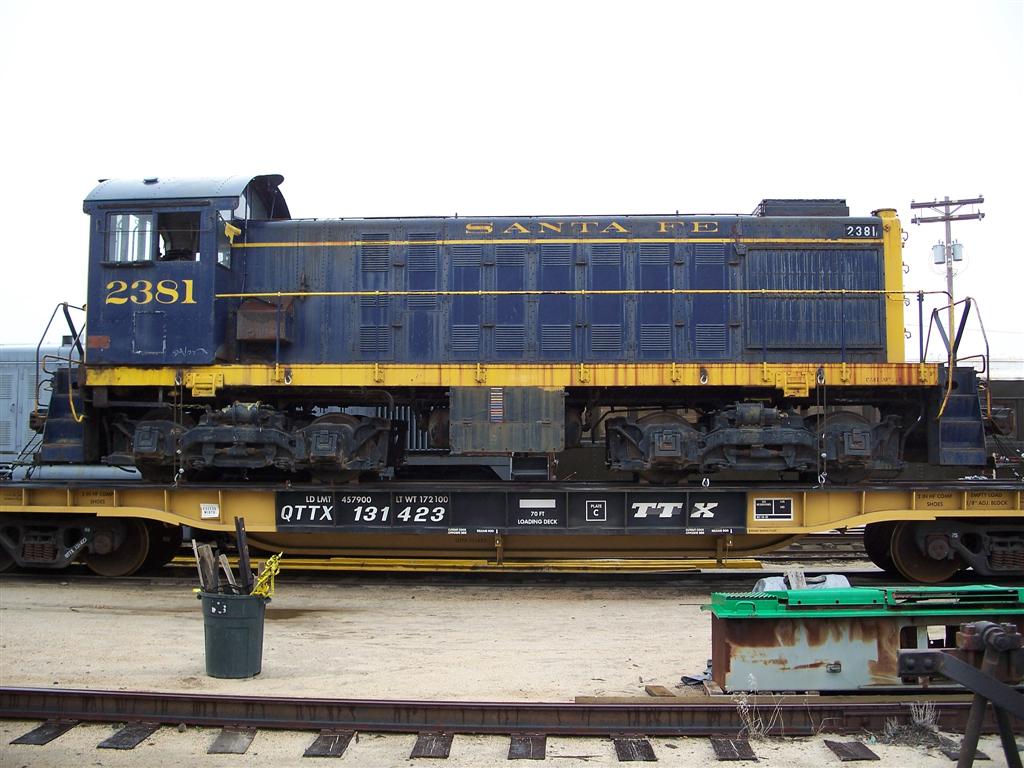 ATSF 2381 as delivered to PSRM aboard a flatcar.  It will be offloaded over the next few days.