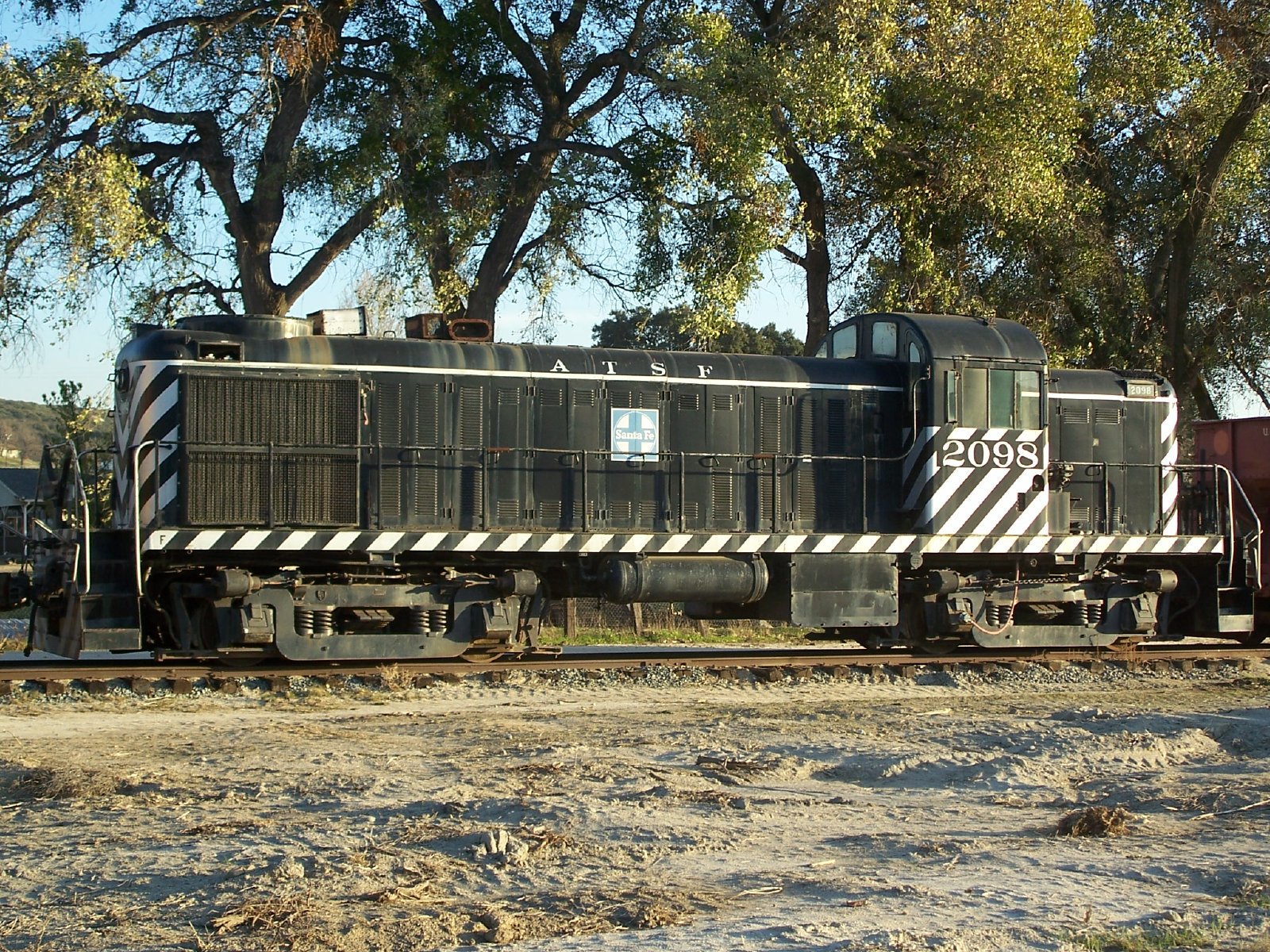 Nevada Mines Division #103
Diesel-Electric Locomotive
For 35 years this one-owner locomotive worked in heavy-duty ore hauling service for one of the nation's largest copper companies.
Built by American Locomotive Co., Schenectady, NY; November 16, 1949.
This RS-2 diesel-electric road switcher was built to specification #E-1661 and carries builder's #77564. It weighs 240,000 lbs.(120 tons); is 55′ 5 3/4″ long, 10′ 0″ wide, and 14′ 5″ high; has a B-B wheel arrangement, and ALCO bearings. It's powered by a model 244 diesel engine (#11202) with twelve 9″ x 10 1/2″ cylinders, and a watercooled turbocharger, developing 1,500 HP at 1,000 rpm. It has four GE traction motors; 74:18 gear ratio; a 57,500-lb. tractive effort; 65 mph top speed; and 800-gallon fuel tank. The unit was built to operate long-hood first, and is equipped for multiple-unit operation (but only as the lead locomotive). ALCO built 383 R-2 units from 1946 to 1950, marketed with General Electric as ALCo/G products.
Delivered new to the Kennecott Copper Corporation, it was painted orange, assigned to (and lettered for) its Nevada Mines Division, and numbered KC #103. For 34 years it was used to haul trains of ore cars between Kennecott's open- pit copper mine at Ruth, Nevada and its smelter at McGill, 19 miles away via Ely, Nevada. The trackage was part of the 150-mile, 1906-built Nevada Northern Railway owned by Kennecott, linking its White County operations with the WP and SP mainlines at junctions at Shafter and Cobre, Nevada. In 1983 the mine and smelter were closed and all the KC/NMD and NN rail operations suspended. The NN depot and shops in East Ely are now the location of the Nevada Northern Railway Museum. KC #103 was transferred by Kennecott to its Utah Copper Division's open-pit copper mine at Bingham Canyon, Utah, the world's largest "glory hole". Painted green and numbered KC #907, it worked there briefly until retired.
On July 9, 1984 the Kennecott Copper Corporation donated KC #907 to the PSRMA. Shipped on its own wheels via the Union Pacific and Santa Fe to San Diego, it was taken by the SD&IV to the La Mesa depot, where it was stored for over two years. On February 28, 1987 KC #907 was brought to Campo on the Museum's "Great Freight II".
In early 1988 the copper-hauling veteran was restored to operating condition by Museum volunteers. It was then painted black with silver "zebra" stripes and trim in the style of post-World War II Santa Fe diesel units, and renumbered ATSF #2098 for display at the Museum-sponsored RAILFAIR '88 at Santa Fe's Wright Street yard in San Diego May 6-8, 1988 (Santa Fe's only ALCO R-2 was #2099; it never had a #2098). It also provided the motive power to bring Museum freight cars from Campo to San Diego for RAILFAIR '88 and back again. In early 1990 its turbocharger was removed, repaired, and reinstalled by Museum volunteer workers. "ATSF #2098" (which never was a Santa Fe locomotive) is currently undergoing an engine rebuild.
1993 Pacific Southwest Railway Museum Association. W. Schneider