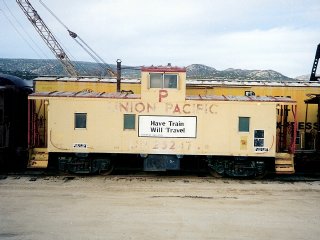 This modernized, railroad-built caboose was used in the Pacific Northwest, and has unique "billboards" on its sides.
Built by Union Pacific Railroad, Omaha, NE; August 1952
Originally UP #3947, this riveted, all-steel Class CA-5 caboose was built as one of a group of 100 (#3900-3999). The underframe is by International Steel, & superstructure by Youngstown Steel. It has four-wheel trucks, Timken roller bearings, and originally had kerosene Adlake caboose lamps. In February 1974, the center- cupola caboose was completely rebuilt. High-back conductor's and cupola seats were installed, and seatbelts and window bars were added in the cupola for added crew safety. An oil-burning Caban model #TCHB55 stove (rebuilt in January 1981) and an electrical system with an axle-driven alternator were also installed.
The caboose's exterior is painted in UP's Armour yellow with red roof, striping, lettering, and numbers, and a large, red "P" on its cupola, to designate that it could be used in pool service. The interior was originally dark green for the lower four feet, and light green above. It was repainted all-light green in 1974.
UP #3947 was renumbered UP #25247 in the 25200-25299 series in May 1959. It was last repainted in January 1981 at the UP shops in Omaha, NE and last UP-serviced in March 1985 at Portland, OR. While serving in the Pacific northwest region, the award-winning slogan "Have Train, Will Travel", suggested by employee Verlyn M. Penry at Hinkle, OR was painted in black and white on its sides. It sustained severe body damage in a collision, and was retired and sent to Pocatello, ID for scrapping in 1986.
One of ten cabooses on the scrapline, and one of only two still on tracks, UP #25247 was purchased from the Union Pacific sight unseen over the telephone on May 27, 1986 by PSRMA Acquisitions Director Roger Garrett. Carried free by the UP and Santa Fe via Colton, CA, it arrived in San Diego in October and was donated to the museum by Garrett on December 2, 1986.
Taken to San Ysidro by the SD&IV, and to Campo on the museum's "Great Freight II" February 28,1987, UP #25247 was steam-cleaned in July 1987 by a "Rig-Shine" machine. It was used on a museum work train in 1987 by workers hired by the San Diego & Imperial Valley Railroad to sandblast and repaint the tower bases of the 180-foot high Stony Canyon viaduct over Campo Creek and Highway #94, about seven miles east of Campo. The caboose was used to provide storage space for the work crew's tools and supplies.
From 1989 through 1992, UP #25247's badly-damaged interior and bent steps were repaired, and it was renovated and restored to its post-1974 appearance, with all-light green interior. It's now on display in operating condition on the museum's "Caboose Row".
1993 Pacific Southwest Railway Museum Association. W. Schneider