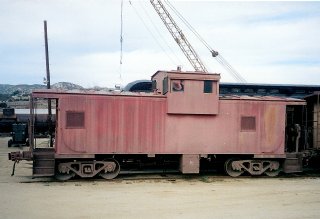 One of the final stages of caboose development is exemplified by this overhanging, extended-vision (or wide-vision) cupola style, which provides excellent train-viewing visibility.
Built by International Car Company, Buffalo, NY; 1963
This welded steel caboose with SSW Barber-Bettendorf trucks & Timken roller bearings has a center cupola wider than the car body, giving it the height of a cupola caboose and width of a bay-window caboose for better visibility. It's also equipped with cupola windshield wipers, and for added crew protection has only two windows on each side of its body, all covered by wire mesh screens. It has an oil-burning stove, a toilet, a 12-volt refrigerator with water spigot, two wood-topped metal desks (one at each end), and lockers for clothing, company mail, radio and electrical equipment, and cleaning gear. SSW #35 was built after the era in which train crews often slept in their cabooses, so is not equipped with bunks. The car was originally Mineral brown with Daylight orange ends, and large white block "Cotton Belt" lettering. In the mid-1970s it was painted bright red with silver roof and the same lettering.
SSW #35 was one of only 45 cars of this type built for the Southern Pacific-owned SSW, as part of the second group of 20 (#26-45), designated Class C-40-9 by the SP. The 1,561-mile SSW began operations in 1877, and was called the "Cotton Belt Route" because of the large amount of cotton along its routes from Waco, Fort Worth, Dallas, and Shreveport via Texarkana & Pine Bluff to Memphis and St.Louis, with several branches. It became the SP's principal subsidiary in 1932, providing SP with a through route from California to the midwest. Though operated as a division of SP, its rolling stock was lettered "Cotton Belt", and it kept its own logo until the early 1960s.
In early 1984, SSW #35, then in the SP yard at Tracy, CA, was bought by PSRMA Board of Trustees member Dan Marnell. It was moved by the SP to its Taylor yard in Los Angeles, and taken to San Diego by the Santa Fe (with museum-owned ex-SP caboose #1351) on November 30, 1984, and then to Grossmont siding in La Mesa (later removed) by the SD&IV. There it was cleaned, sandblasted, and repainted all-bright red (without the silver roof) with black underframe, but was not relettered. On March 28, 1986 SSW #35 was donated to the PSRMA by Dr. Marnell.
Moved to San Ysidro by the SD&IV, the caboose was brought to Campo on the Museum's "Great Freight II" on February 28, 1987. Its red paint has darkened through the years. Its restoration in mid-1970s bright red will continue as time & funds permit. With increased use of Flashing Rear End (monitoring) Devices ("FRED"), most railroads are discontinuing caboose use as an unnecessary expense. SSW #35 is one of the last cupola cars!
1993 Pacific Southwest Railway Museum Association. W. Schneider