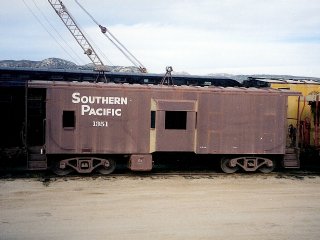 This railroad-built steel caboose is a classic bay-widow type, the style that replaced many cupola cabooses as railroading changed.
Built by Southern Pacific Company, Los Angeles, CA; 1951
In the post-World War II years, new and higher freight cars (which could carry more freight and thus be more profitable) made it very difficult for brakemen and conductors in caboose cupolas to fully observe their trains. As clearance restrictions prevented taller cabooses, bay-window ones came into use on many railroads as a new solution even though it meant a crew member could only observe one side of the train at a time. Bay-window cabooses were popular for years, and became commonplace on many railroads, including the SP.
Built to specification CSF 346, this riveted caboose was one of 50 Class C-30-6 cars, the last SP class to be fitted with friction-bearing trucks. The bearings are Alcolid and the four-wheel trucks Barber-Bettendorf, each weighing 7,060 lbs. It has 33″ wheels and a 5′ 6″ wheelbase. SP #1351 weighs 44,100 lbs. (22.05 tons) and is 41′ 1 3/4″ long over couplers; 11′ 11 3/4″ high; has an 8′ 8″ body width; a 10′ 8″ bay window width; and a rooftop radio antenna. SP #1351 was painted Freight Car red (with Daylight orange ends and end-facing bay window panels after 1956), and white lettering in two different schemes. Its Douglas fir interior was painted in SP-190 red freight car paint. It has bunks, a stove, coal box, cupboards, lockers, sink, water cooler, refrigerator, stretcher, conductor's desk, and lamps. Some windows were later blanked out to avoid the expense of safety glass, but still protect train crewmen. It had a rooftop-mounted single-lens marker light, removed after retirement.
After 22 years (its final ones on Los Angeles locals), SP #1351 was retired in 1983, stored at SP's Taylor yard in Los Angeles, and scheduled for scrapping. In response to a request from the PSRMA, it was donated to the Museum September 19, 1984 by Southern Pacific Transportation Company, its first donation to the PSRMA. SP #1351 was moved free (with Cotton Belt caboose SSW #35) by the SP, the Santa Fe, and the SD&IV to Grossmont industrial siding in La Mesa, CA, where it arrived on November 30, 1984. (This siding was later removed when the line was rebuilt for the San Diego Trolley).
While stored at Grossmont, SP #1351 was knocked through a bumper post and across a paved parking lot in a 1985 switching accident. The damage was repaired by the railroad, and SP #1351 was cleaned and painted Mineral brown with Daylight orange ends and end-facing bay window panels by Museum members. It was taken to San Ysidro by the SD&IV, and to Campo February 28, 1987 on "Great Freight II".
The restoration and refurnishing of this caboose to its post-1956 appearance in Freight Car red with Daylight orange ends and panels will be completed when time and funds permit. SP #1351 is kept in operating condition on the Museum's "Caboose Row".
1993 Pacific Southwest Railway Museum Association. W. Schneider