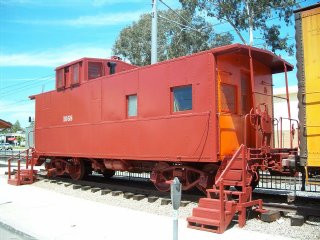 One of two cabooses obtained for the museum from the same series, this one was purchased especially for display at the La Mesa Depot Museum, where it is displayed and seen daily by thousands of people.
Built by Southern Pacific Company, Los Angeles, CA; June 1941
This Class C-40-3 cupola type riveted steel caboose was one of 185 in its class and 45 in its series, another of which (SP #1061) is in restored and operating condition at Campo. It has PFE and UPRR trucks with Symington and Alcolid friction bearings. SP #1058 is 36′ 4 7/16″ long, and weighs about 46,800 lbs. (23.4 tons). It has a coal stove, desk, and other furnishings, and had frog-eye marker lights on its cupola until 1986. Its bunks were removed in later years and replaced with benches. Originally all-Mineral brown, it had its ends painted Daylight orange about 1956, and carried white lettering in three different schemes, the last being block letters.
After over 40 years of service in the west, SP #1058 was retired and stored at SP's yard in Tracy, CA, destined to be scrapped. In late 1984 it was purchased specifically for display at the La Mesa Depot by PSRMA Board of Trustees member Dan Marnell, who in 1984 had purchased series sister SP #1061 for detailed restoration. SP #1058 was cleaned by museum members February 16, 1985 and shipped to San Diego on its own wheels via SP and Santa Fe March 5, 1985.
Following a long, slow trip, the caboose was stored in the SD&IV yard near downtown San Diego. On December 8, 1986 it was donated by Dr. Marnell to the PSRMA. In January 1987, SP #1058 was taken by the SD&IV to downtown La Mesa to replace SP #1061 as the permanent display caboose at the La Mesa Depot Railway Museum, operated as a joint exhibit by the PSRMA and the La Mesa Historical Society. The depot, built in 1894 by the San Diego, Cuyamaca & Eastern Railway, is the oldest building in La Mesa, and in 1980-82 was restored by PSRMA volunteer workers, winning an architectural "orchid" award.
Since its arrival in La Mesa, SP #1058 has undergone methodical restoration to its 1960s appearance. This included the building of 17 new windows to replace old ones; a repainting in Mineral brown (without orange ends) with a light green interior; relettering in block letters; and ongoing structural, carpentry, metal, and other work, including protective window shields, door locks, and removal of occasional graffiti. Its ends will be repainted Daylight orange to match its 1960s appearance. Though kept in operating condition, SP #1058 is on a display track not connected to the nearby SD&IV and San Diego Trolley tracks, and therefore cannot be operated.
Like the historic PSRMA-restored depot near which it stands, SP #1058 is a reminder of railroading days of the past, when cabooses were on nearly all American freight trains, in contrast to today's cabooseless SD&IV freights and sleek, modern red San Diego Trolley light rail vehicles (LRVS) rolling past it daily. Because of its location, SP #1058 is the museum's most-often-seen caboose.
1993 Pacific Southwest Railway Museum Association. W. Schneider