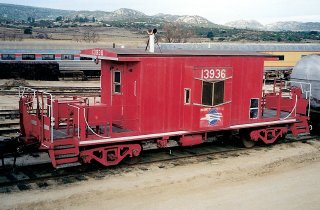 This "short-body" bay window, welded steel caboose with all of the standard "shack" appliances except bunks, was in the last batch of road cabooses purchased by the MoPac, and among the last such car types built before caboose use was discontinued by most railroads.
Built by Missouri Pacific Railroad, Sedalia, MO; 1980.
This modern road caboose was built for, and used in, long-distance service. Because it has a shorter body and longer end platforms or "porches", it's sometimes confused with transfer or yard cabooses, which were usually "boxes" locally-built on freight car frames for use in large railroad yards. This car was built for road service.
MP #13936 has platforms and steps of circular-design steel grids, and safety railings. The "A" end has an equipment and tool box on one side and square fuel oil/kerosene tank on the other, exterior-mounted for crew safety. MP #13936 has Barber-Bettendorf 5 1/2 x 10 four-wheel trucks with a casting date of September 1979, weight of 5,589 lbs. each, Timken roller bearings, and 2-inch composition brake shoes. The car's hand brakes are Peacock #1672 with non-spin wheels. It also had water fill valves, removed in later years.
The caboose is equipped with an axle-driven alternator, and has a battery-powered electrical system. There's a red warning light and a white spotlight on the roof at each end, and small safety lights illuminating the steps. The caboose was painted a bright red with white trim and a silver roof in Dupont polymer when built, and was never repainted. MoPac's emblem (a stylized white eagle on a blue "buzz saw" sun) is painted on its sides. The car sides, ends, and roof ends have white reflective tape strips on them.
Peaked-roof MP #13936's body has a bay on both sides, each with a sliding side window and small fore-&-aft windows. The side windows have unique angular screens that slide upward and toward the ends, giving them an unusual appearance. The frames, screens, and door windows and fittings are aluminum. Each side bay has a small table and high-back seat,one facing the "A" end and one the "B" end. The interior also contains an oil stove, sink, ice chest, toilet, and small closet. The late-model caboose was not equipped with bunks, saving space and enabling it to be built with a shorter body.
MP #13936 had "KC 2-84" and "KC 6-84" scratched on one side, and "Corpus Christi" on one end, which may indicate use at Kansas City and Corpus Christi, TX. It served on the Missouri-Pacific (which merged with the Union Pacific in December 1982) until January 1993. MP #13936 was withdrawn from service at Grand Island, NE, and sold by UP to the SDRM for $3,000, including delivery to Los Angeles, CA. MP #13936 was brought to San Diego by the Santa Fe March 18, 1993, and parked on a San Diego Northern (former Santa Fe) spur at Estudillo Street, where it was later cleaned by museum volunteers.
This final version of the American caboose is now on display in operating condition on the museum's "Caboose Row".
1993 Pacific Southwest Railway Museum Association. W. Schneider