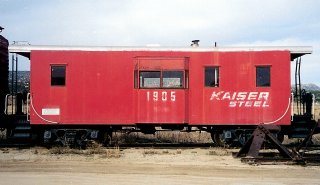 This unusual and home-built bay-window car from an industrial mining railroad is the museum's only air-conditioned caboose.
Built by Kaiser Steel Corporation, Fontana, CA; 1953
When Kaiser built its blast-furnace steel manufacturing plant at Fontana, CA in 1942 and opened its Eagle Mountain Ore Mine 120 miles east to provide iron ore, it was the first fully-integrated steel operation on the west coast. The 51-mile Eagle Mountain Railroad, Kaiser-built in 1946-47, was opened in 1948 to connect the desert mine with the Southern Pacific mainline to Fontana at a junction & yard named Ferrum (Latin for "iron") below sea level on the inland Salton Sea.
Kaiser had two home-built cabooses on the heavy-duty freight-only railroad. In the 1970s, "original" KS #1905 was being rebuilt after major frame damage, when work was halted. Shot up and vandalized, it was later sold, and is now displayed at Ragsdale's Desert Center Cafe in Desert Center, CA, 12 miles south of Eagle Mountain. The other caboose (KS #1918?), had been stored at Ferrum and vandalized, and was moved to Eagle Mountain and rebuilt by Kaiser shop workers. Renumbered "new" KS #1905, its metal toolbox and its wire alternator cage are from "original" KS # 1905, which had slightly larger windows.
Built in a style similar to SP cabooses, KS #1905 has ASF Andrews-type 4-wheel trucks, National Coiled Spring bearings, Kaiser ship-type welded steel plating construction, unusually wide windows on its two bays, other side windows, and windows on both sides of its end doors. The push-out windows formerly had steel frames & six panes of non-safety glass per window. These french-style windows were removed during the rebuilding and new ones with rubber molding installed. Small glass panes over the side windows on the bays were replaced with steel plates. Because of summer temperatures, "new" KS #1905's roof was painted heat-reflecting silver and it was air-conditioned with a swamp cooler. An axle belt-driven alternator, ice box, new water tank, and an air-flush commode were added. It has white numbers and "Kaiser Steel" lettering on its red sides.
KS #1905 operated on the mainline and at Eagle Mountain yard and was well-maintained. It was usually at the rear of trains from Eagle Mountain to Ferrum, and just behind the locomotive on northbound return trips of 100-car trains of empty cars.
A PSRMA excursion visited the Eagle Mountain Railroad in 1982. In 1983 Kaiser Steel closed down its Fontana plant, the mine, and railroad due to foreign steel competition, and the museum sought KS #1905. The caboose was donated by Kaiser Steel in June 1984. On January 28, 1985 it was taken to Campo by truck, as Eagle Mountain no longer had rail service. Now on display in operating condition, KS #1905 served as SDRM's primary work-train caboose, due to its sturdiness, excellent visibility, & air-conditioning. In 1987 it even carried revenue passengers!