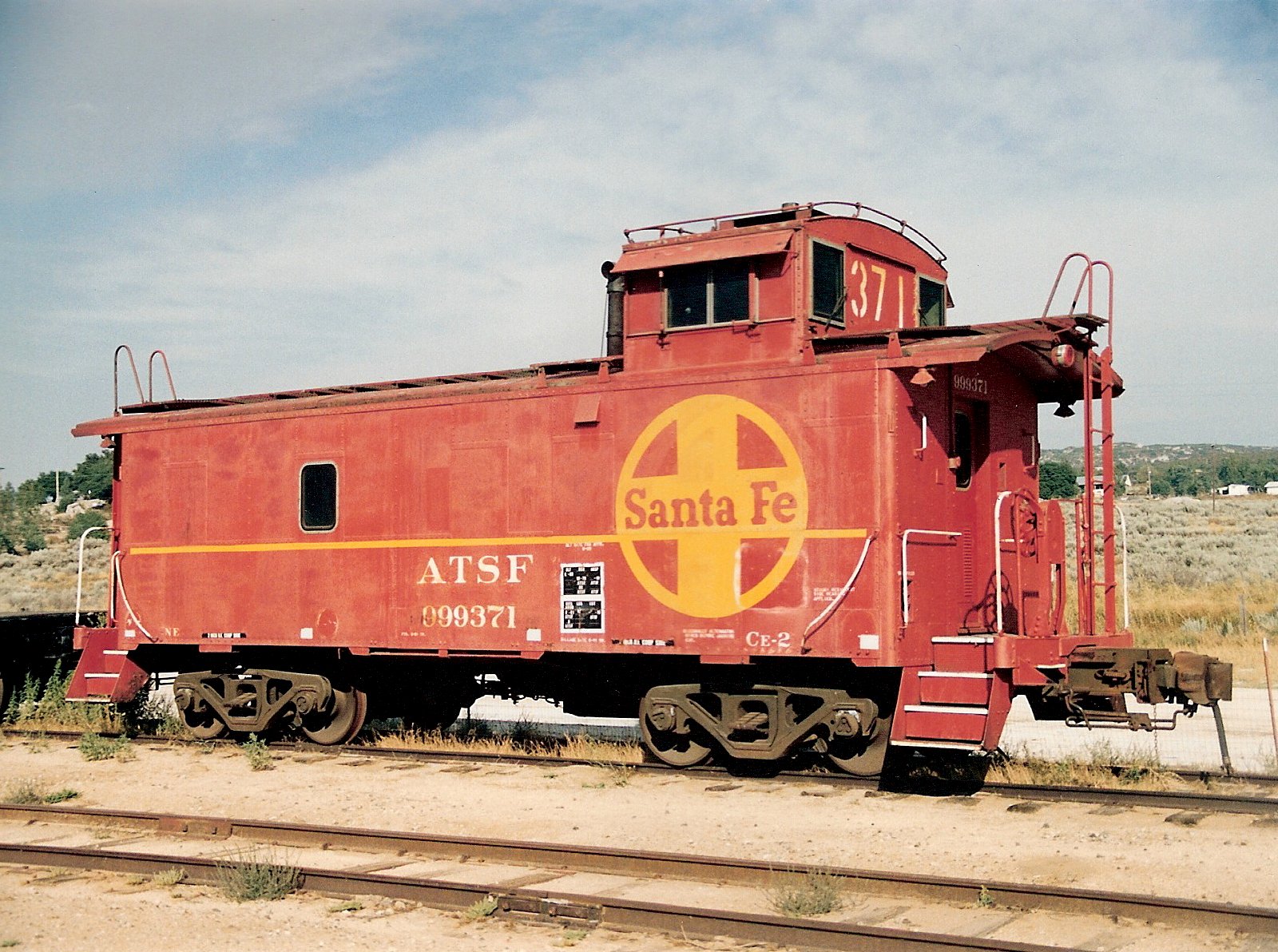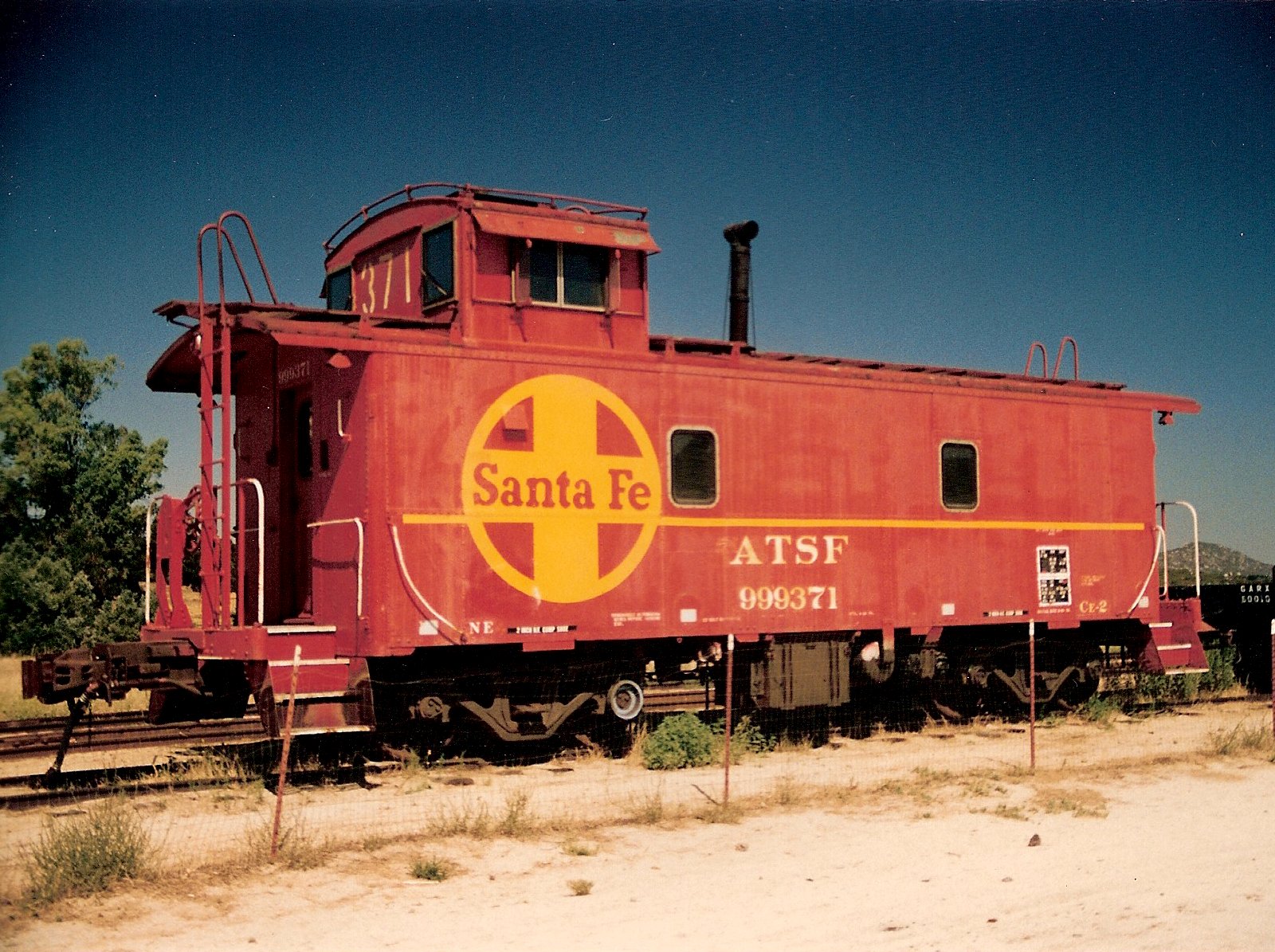 One of the Santa Fe's earliest steel cabooses that replaced fire-prone wooden ones in mainline service, this car was modernized in California in its later years with many crew-safety features.
Built by American Car & Foundry Co., St. Charles, MO; 1929
This riveted steel car has a radial (rounded) roof, awnings over the cupola side windows, wood rooftop walkways, and handrails on the cupola roof. It originally had Bettendorf Swing Motion trucks, an Integral Box Cast Steel side frame, Ajax brakes, Eagle Estate stove, Giessel water cooler, oil lamps, five left and three right side windows, and was painted Mineral brown with white lettering. It was numbered ATSF #1782 in Santa Fe's #1750-1874 series.
In August 1969, it was rebuilt into a Class Ce-2 caboose at the Santa Fe shops in San Bernardino, CA. An 18″ shock control under-frame made at Santa Fe's Topeka, KS shops and an oil-burning stove were installed. One left and two right side windows were replaced with expensive sealed FRA thermo-pane windows, and the other side windows plated over (keeping costs down), for crew safety. High-back conductor's and cupola seats were also installed, the cupola ones seatbelt-equipped. The car was painted Santa Fe's Indian red with black roof & underframe and white lettering. One of 223 cars rebuilt into the Ce-2 Class (#999315-999537), it was renumbered ATSF #999371. The "999" differentiated it from other cars with similar numbers for computerized reporting. The full number was painted on its sides, and in 1974 "371" without "999" was painted in white on the cupola ends and inside the car. Assigned to Santa Fe's Coast Lines, it may have served in other areas as well.
About 1977, new Gould-Barber-Bettendorf roller-bearing trucks and a 12-volt electrical system (with alternator mounted on the rear truck frame) were installed. The 48-year-old way car was equipped with an electric refrigerator, interior lights, and red lights on the bottom of the roof at each end. In August 1981, ATSF #999371 was repainted Indian red including its roof at the San Bernardino shops. The underframe remained black, the lettering and railings white. A yellow stripe and a huge Santa Fe emblem were added on each side, along with four small white reflector strips.
In 1989, ATSF # 999371 was retired by the Santa Fe, and scheduled to be sold to Mexico. But on September 26, 1989 it was selected by Museum staff volunteers from a group of 50 old cabooses at the Santa Fe's San Bernardino shops, and purchased with funds donated by "Skeeter" and Wanda Hollenbach for that purpose. It was delivered to San Diego by the Santa Fe, moved by the SD&IV to San Ysidro, and kept inside the engine house until brought to Campo in February 1990 by the SD&IV on "Great Freight III".
ATSF #999371, or "371" is on display in operating condition at Campo. It's been cleaned and will be renovated to its post-1977 appearance by Museum volunteers as time and funds permit.
1993 Pacific Southwest Railway Museum Association. W. Schneider