THIS IS AN ARCHIVED POST.  PSRMA DOES NOT CURRENTLY OPERATE TRAINS TO MEXICO.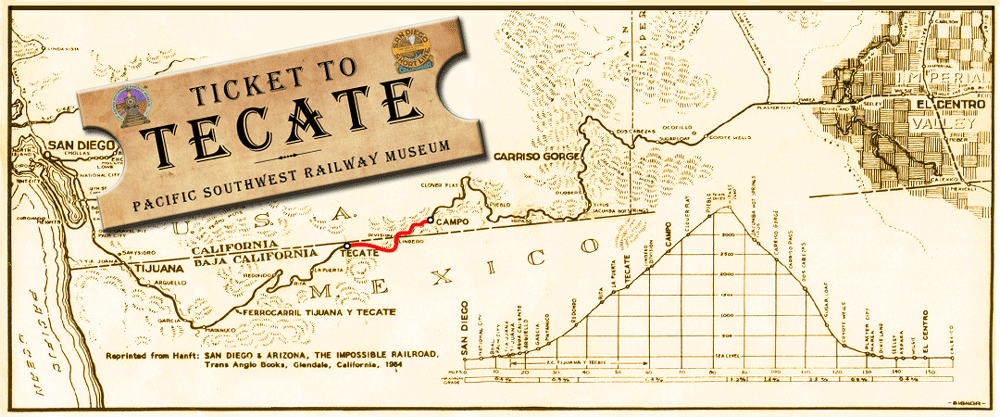 Updates on the Return of Train Service to Tecate:
As many of you may know, railroad tunnel #3 between the U.S.-Mexico border and the city of Tecate burned and collapsed in mid-2009.  Since that time, our popular Ticket to Tecate service has been indefinitely suspended pending the clearing and reconstruction of the railroad between the border and tunnel #3.  Due to recent efforts by the city of Tecate, the Mexican state of Baja California, and Baja California Railroad (BJRR), construction has begun to clear the collapsed tunnel #3 and repair the tracks that have fallen into ruin.  We do not yet have a time frame for when we will run the next Ticket to Tecate train.
March 2019
No further progress has been made on the track and tunnel repairs between Division and Tecate.  At this point, we do not have a timeline for restoring service to Tecate due to the track conditions and several other outside factors.
September 2017
Since our last update, much has happened to the Desert Line.  With a new lease agreement in place, BJRR has taken over control of the entire Desert Line from the Pacific Imperial Railroad Company.  With that said, BJRR is now organizing plans to rebuild the line between the US/Mexico border at Division and El Centro, CA.  This process is slated to take several years to complete.  You can read more about the reconstruction plans here on BJRR's website.
Since our last update, the now daylighted Tunnel 3 has fallen victim to several land slides along the sides of the old tunnel and contractors are working to clear it once more for rail travel.  The western portal of Tunnel 4 has still not been rebuilt.  We are hopeful that over the next year, sufficient work will have been made to restore service to Tecate.
February 2016
On January 25, 2016, PSRMA President Diana Hyatt and Vice President Martin Caestecker were invited on a tour of the Desert Line hosted by Baja California Railroad for the United States Console General's office in Tijuana, Baja California, Mexico.  Perhaps the largest gathering of railroad officials in several months, attendees included PSRMA, BJRR Officials and crew, Consolate staff, MTS officials, and others.  This tour gave us much insight into the progress of the Mexico portion of the Desert Line rehabilitation.
A promising amount of progress has been made towards the completion of the track between Division (at the US/Mexico border south of the PSRM) and Tecate.  Tunnel 3 is now completely cleared of debris and ready for track to be laid.  Items still needing to be addressed include the rebuilding of the western portal of Tunnel 4 and the rebuilding of at least 2 kilometers of track that was removed between Division and Tecate.  Railroad officials unofficially hope to see the completion of all work within the next six to eight months.  For a detailed look at the trip, view the photo essay below.
A BJRR train crosses from the US into Mexico at Estación García.

BJRR's new wharehouse and transloading facility, Estación García, capable of holding several thousand square feet of goods.

After lunch, we boarded the train for a ride from Estación García to Estación Tecate.  The train is shown here at the dam between tunnels 1 and 2.

While on our way to Tecate, President Diana Hyatt gave a brief history of the SD&A to railroad officials.

Another picture from President Hyatt's presentation. One notable official in this photo is Arturo Alemany – President of Pacific Imperial Railroad, front right.

After a 2.5 hour trip across the historic Tijuana y Tecate Railway, we arrived at Estación Tecate with the Tecate Brewery in the background.

After a short car ride, we were at Tunnel 3. This is the top of the west portal.

A good view of the entire daylighted Tunnel 3 with east portal in view.

Just a few hundred feet away is Tunnel 4 with ground already prepped for track laying.

The west portal of Tunnel 4 shows some signs of recent decay. We have been watching this portal for some time. Note the pile of sand that has fallen through the top of the portal to the ground.

A closer look at the decay of Tunnel 4's west portal.

The right-hand wall of the west portal is showing signs of significant stress.

A detailed look at the roof of Tunnel 4's west portal. This entire portal will need to be rebuilt before service to Tecate can resume.

All photographs taken on 1-25-16 by PSRMA Vice President Martin Caestecker
November 2015
The last few months work have resulted in much progress towards the clearing of collapsed tunnel #3.  It was decided that the tunnel would be "daylighted," a process which removes the earth above a tunnel to make an open-topped passageway of sorts.  Below are a few pictures from a trip in mid-July that saw the tunnel approximately 75% cleared.  Since that time, the tunnel has been almost completely cleared.  One of the largest remaining tasks for the project is installing several miles of track that were torn up some time after 2009 – including repairing and reinstalling track through the daylighted tunnel #3.
An excavator loads a bucket of dirt and sand into a large dump truck to be hauled out of the collapsed tunnel.

One portal to tunnel #3 where hundreds of yards of dirt and sand must still be removed.

Just a small sample of the piles and piles of dirt and sand that must be removed before the tunnel can be cleared.

The other tunnel portal still stands as tunnel 3 is being daylighted.

Museum President Diana Hyatt and volunteer Hector Gonzalez stand on the rubble at one end of collapsed tunnel #3.

All photographs taken 7-16-15 by PSRMA Treasurer Dave Tomeraasen
Below is the preliminary advertisement page for the Ticket to Tecate trains.  We stress that service to Tecate HAS NOT resumed.  We will put out a formal announcement through our website when service to Tecate can resume.
Draft Advertisement:
The Pacific Southwest Railway Museum is proud to announce the return of its famous Ticket to Tecate rail excursions to Tecate in Baja California, Mexico.  Made famous by public television icon Huell Howser on an episode of California's Gold, the Ticket to Tecate train promises an experience truly unlike any other for museum goers and travelers alike.  A recent push from the city of Tecate and other Mexican government agencies has allowed for the long-collapsed tunnel #3 to be cleared and track opened for our trains.  Join us on the only international museum excursion train to Mexico from the United States.
Your day starts at the Campo Depot in beautiful eastern San Diego County.  We recommend you arrive by no later than 9:30 am to pick up your tickets from the Depot Waiting Room.  Boarding begins at 10:00 am.
Departure from Campo is scheduled for 10:30 am.  During the scenic 75-minute train ride to the city of Tecate, passengers enjoy the rugged desert scenery as the train winds down the hill from Campo and through tunnel #4 at the international border.  Once we cross the border, the train runs on the famous trackage of the Tijuana and Tecate Railway, the Mexican subsidiary of the San Diego and Arizona Railway once owned and operated by the San Diego sugar baron John D. Spreckels.  By 11:45 am, we will arrive at the beautifully restored Tecate train station.
Once we arrive in Tecate, the afternoon is yours to enjoy!  Bring your own picnic lunch or discover one of Tecate's own restaurants to experience Mexican delicacies that are truly auténtico.  Tecate's quaint downtown is filled with small shops, bakeries, and businesses all opened for your enjoyment.  Passengers may also take an optional walking tour of the Tecate Brewery – entrance into the Brewery is already included in your ticket purchase!
Our scheduled departure time of 3:15 pm will come all too soon.  Boarding will begin by 2:45 pm.  Feel free to bring food, beverages, and other souvenirs back from Tecate on the train.  There are no restrictions on what may be brought back into the United States beyond those laid out by the Department of Homeland Security.  In the interest of keeping our trains a family event, consumption or possession of open alcoholic beverages is prohibited.  By 4:30 pm we will be back in Campo.  Before detraining, all passengers will pass through the baggage car to have passports or other forms of cross-border identification checked by United States Customs officials.  More details on acceptable forms of identification are listed below.
Reservations
Reservations are required in advance for all Ticket to Tecate passengers.  United States Customs requires that we submit a passenger manifest of all passengers traveling across the border at least 24 hours before departure.  Full names of all passengers traveling to Tecate must be provided during the reservation process.  Reservations can be made online through our website by clicking on the dates listed below.
Ticket Prices
Toddlers (Under 3 In Lap) – TBA
Children (ages 3 – 12) – TBA
Adults – TBA
Excursion Dates
TBA
Customs Information
Each passenger traveling on the Ticket to Tecate train is required to clear United States Customs upon returning to Campo from Tecate.  Customs requires that certain information pertaining to each traveler be provided before their tickets are issued.  This information will be gathered when you purchase your tickets.  Be sure to list each person's full name exactly as it appears on their identification including for toddlers and babies less than three years old.  Acceptable identification forms are described below.  Failure to provide this information for all passengers traveling on the Ticket to Tecate trains will prevent us from issuing tickets to those passengers.  The Museum will not retain this information after sending it to the United States Customs officials.
Required Identification
Passengers returning from Mexico will be required to present one of the following documents:
United States Passport
United States Passport Card
Enhanced Driver's License (EDL)
Trusted Traveler Program Card (SENTRI, FAST)
Passengers failing to provide one of the above forms of identification will not be issued a ticket and will not be allowed to board the Ticket to Tecate train.
Other Information
For your comfort and safety, smoking and the consumption of alcoholic beverages is strictly prohibited on the Museum grounds and on the train.  Unopened alcoholic beverages may be taken aboard the train from Mexico and carried through Customs if otherwise in compliance with Customs regulations
The Museum reserves the right to cancel a scheduled excursion for any reason.  Passengers with paid reservations will be offered free rescheduling or a full refund of their fare.
Accessibility Notice
While the needs of mobility-limited passengers can be met while in the United States, please be aware that conditions vary in Mexico.  Passengers should be prepared to walk from the train to the Tecate town square, brewery, and local restaurants over possibly rough terrain.  Also, the Museum's wheel chair lift will only be available at the Campo facility.  Passengers will be required to navigate the steps of the railroad cars when arriving and departing Tecate.  Crew members will be available to provide assistance to mobility-limited passengers
Tecate Brewery Walking Tour
For your safety, the following rules apply to those choosing to take the Tecate Brewery Walking Tour
Sandals, high heels, and other open-toed shoes are not permitted on the tour
No pictures or videos may be taken during the tour
No eating, drinking, or smoking during the tour
The tour is approximately 40 minutes long.  Be prepared to walk or be standing for that period
For their safety, children less than 2 years of age and pregnant women are not allowed to take the tour