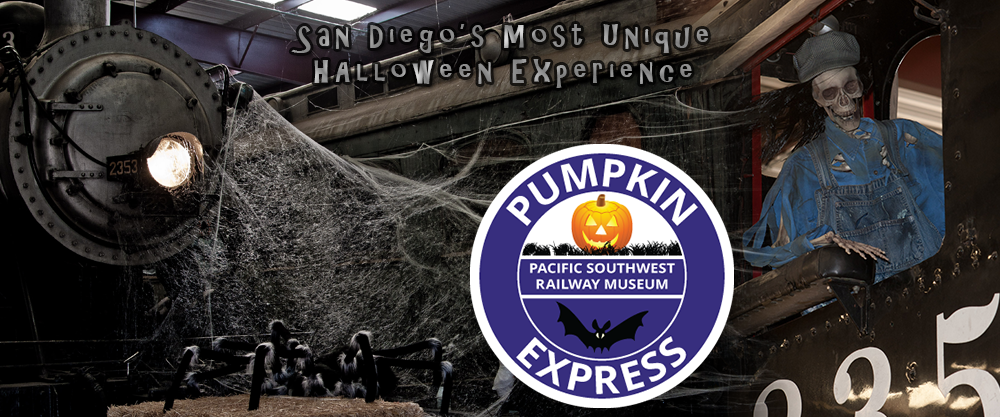 Join the Pacific Southwest Railway Museum Association in our annual Pumpkin Express Halloween Celebration.  Come ride our decorated vintage railcars through the San Diego county mountains as fall descends upon Campo, CA.  Walk through our themed Display Building complete with two haunted trains, a pumpkin patch, and our creepy cast of ghosts and ghouls.
Start your spooky day off right with a train ride.  Trains depart from the Campo Depot at 11:00 AM, 1:15 PM, and 3:00 PM.  The Pumpkin Express will wind down the hill through some of the most scenic parts of the historic San Diego and Arizona Railway.  Keep your eyes open for the Grim Reaper who may be stowed away onboard.
After the train returns to the museum grounds, passengers will be let off at the Display Building where children and their parents will enjoy decorating pumpkins from our indoor pumpkin patch and a walk through one of our two haunted trains. Pumpkins are included in the purchase of every Toddler and Child ticket on the Pumpkin Express. Don't miss out on this truly unique opportunity.
PSRMA now offers First Class tickets on our Pumpkin Express!  Those riding in ATSF 1509 can enjoy a premium atmosphere, complimentary soft drinks, and light assorted candies and snacks.  Please consider upgrading your seating to First Class today.
Fares
Note: All trains depart from the Campo Depot located at 750 Depot St., Campo, CA 91906.
Coach Class Tickets
Toddlers (Under 3 In Lap) $5
Children (ages 3-12) $14
Seniors (ages 65+) $15
Adults (ages 13-64) $18
First Class ATSF 1509
Toddlers (Under 3 In Lap) $8
Children (ages 3-12) $20
Seniors (ages 65+) $22
Adults (ages 13-64) $25
Railcar Charters
MoPacCaboose (carries 12) $300
Please email reservations@psrm.org for more information about chartering a railcar.
Reservations
Advanced reservations are recommended but not required for this event.