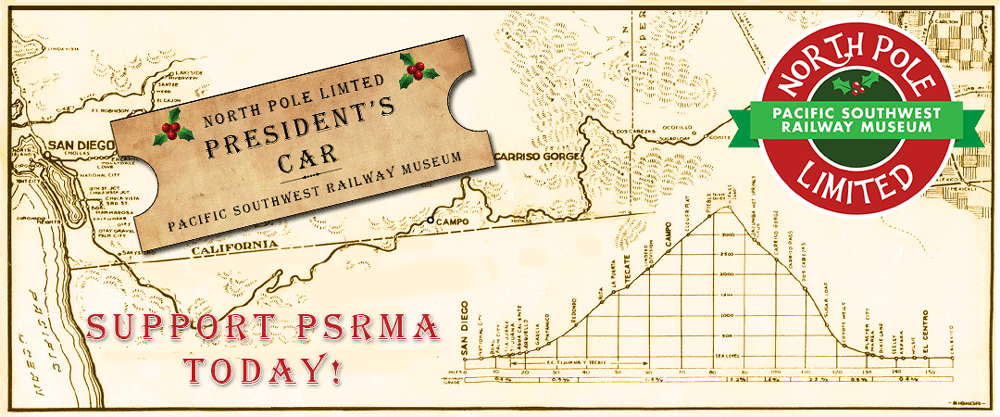 Reserve Tickets Now!
For the first time ever, the Pacific Southwest Railway Museum Association is pleased to offer you the opportunity to support the museum while enjoying an exclusive holiday tour with light meal and wine tasting in our Exhibit Hall. This opportunity is offered one time only on December 10, 2022.
Your journey begins at either the Old Town or El Cajon Transit Center. Guests board a Royal Lines luxury coach bus for direct travel to the Museum. While you kick back, relax, and enjoy the beautiful scenery enroute to Campo, a professional tour guide will regale you with the history of the PSRM and the San Diego and Arizona Railroad, on whose tracks you will be riding on for the North Pole Limited.
Upon arrival in Campo, disembark at our Exhibit Hall to enjoy a light meal, and a private wine tasting, courtesy of Campo Creek Vineyards. During your meal, your host John D. Spreckels, builder and president emeritus of the San Diego and Arizona Railroad, will update on the recent history of the railroad and the status of the PSRM.
After dinner, there will be a short bus trip from the Exhibit Hall to the historic Campo Depot. There, you will have an opportunity to relax, use the facilities and explore the gift shop. Next, all aboard the North Pole Limited Union Pacific Chair Car #576 for a festive ride to the North Pole!
After a holiday-themed rail ride with Santa, complete with Mrs. Claus, elves, and hot chocolate, you return to the Campo Depot to disembark and prepare for your relaxing tour bus ride back to San Diego.
This all-inclusive, family-friendly holiday tour is offered to you for $300 per person (no charge for children under 3 seated in lap). This tour is limited to 44 seats, so please reserve your space today.  Those with existing ticket reservations for the North Pole Limited may transfer their existing purchase to the President's Car Fundraiser by emailing mark_npl@psrm.org.  More information is also available by emailing mark_npl@psrm.org.
The approximate timeline for the tour follows. Please arrive early to allow sufficient time for check-in and boarding.
02:30PM – Board bus at Old Town Transit Center.
03:00PM – Bus departs Old Town Transit Center.
03:20PM – Stop El Cajon Transit Center to pick-up additional riders.
03:40PM – Bus departs El Cajon Transit Center.
04:30PM – Bus arrives at the PSRM Display building. Disembark.
04:45PM – Dinner and wine tasting.
06:15PM – Board bus and ride to the train depot.
06:45PM – Board train.
07:00PM – Train departs for North Pole.
08:15PM – Disembark train.
08:45PM – Board bus
09:00PM – Bus departs Campo depot.
09:50PM – Bus arrives El Cajon Transit Center to drop off riders.
10:15PM – Bus arrives Old Town Transit Center. All passengers disembark.
Reserve Tickets Now!