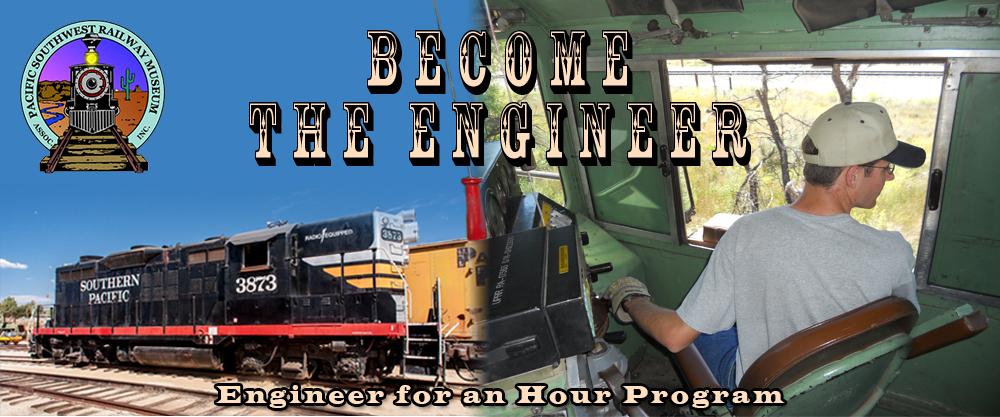 The Pacific Southwest Railway Museum Association is proud to announce the return of its ever-popular Engineer for an Hour program.  Climb into the cab of a vintage diesel locomotive with one of the San Diego and Arizona Railway's qualified engineers and operate a piece of railroad history!
Participants will get to sit in the engineer's seat and operate the locomotive after a quick instructional session from one of our engineers.  Sound the horn and ring the bell just as railroaders have done for decades.  Feel the rumble of the powerful diesel engine as you notch up the throttle.  Bring the locomotive to a gentle stop using the locomotive's air-operated brakes.  Those wishing to take the controls must be at least 16 years of age.  A maximum of three people may split the hour of operating the locomotive, but only two of those people may be present in the cab at one time.  All participants will receive a certificate of participation suitable for framing.  As an added bonus, participants who are not already members of the Pacific Southwest Railway Museum Association will have a free individual level membership included with their Engineer for an Hour purchase!
Engineer for an Hour is available at 10:00 AM, 11:30 AM, 2:00 PM, and 3:30 PM on the following dates for 2017:
NOTE: While Southern Pacific GP9 #3873 is out of service for maintenance, SD&A #7285 will be the locomotive used for Engineer for an Hour
These events will sell out quickly.  Our prices are the lowest in southern California for similar events at other railroad museums.  Do no delay reserving your chance to run one of our locomotives.
Note: Though the Southern Pacific GP-9 #3873 is the primary locomotive for Engineer for an Hour, the museum has the right to substitute the locomotive for Engineer for an Hour at any time and for any reason without notice.  Every effort will be made to inform participants of locomotive substitutions when practical.
Pricing
PSRMA Members – $150
Non-Members – $175 (includes Individual level membership to PSRMA)