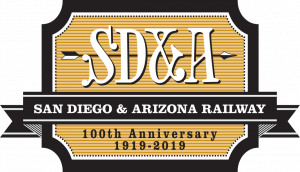 The 100th anniversary of the completion of John D. Spreckels'  San Diego & Arizona Railway, The Impossible Railroad,  is coming!  Mark your calendars for November 16, 2019, for a once-in-a-lifetime celebration and golden spike ceremony and reenactment at the Pacific Southwest Railway Museum Association's Campo Railroad Park and Museum.   Also, be sure not to miss the fun-filled festival on September 7, 2019, to mark the 112th anniversary of the original SD&A groundbreaking.   Many other special programs, activities, events, and exhibits are planned throughout 2019. View a 6-1/2 minute interview on San Diego KUSI TV station broadcast on November 15, 2018 (SD&A's 99th anniversary).
Thank you to our sponsor
Cool-Roof Systems
Sponsorships at many levels are available for the SD&A Centennial.  To be a sponsor, please call

(619) 606-6231

or email fundraising@psrm.org.