The San Diego & Arizona Railway CENTENNIAL DAY will be celebrated on Saturday, November 16, 2019, at Campo Railroad Park and Museum.
The following is tentatively planned. Please check back for updated information. (Last updated 4/9/2019)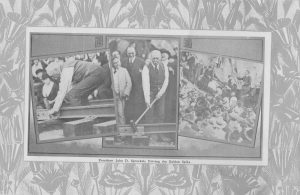 Reenactment of the original 1919 Gold Spike ceremony. There is a possibility that a direct descendant of John D. Spreckels will participate. Dignitaries and invited guests from San Diego and Imperial counties and Baja, Mexico, will be present and take part in the program.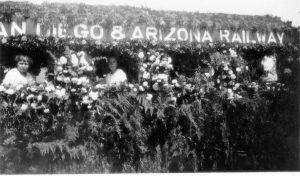 Take a ride on an SD&A Centennial train. Limited optional rides in the cab. Take home an SD&A timetable from the 1920s and a map of its historic route.
Also,
An operating scale steam train
Vintage railroad equipment on display: steam and diesel locomotives, passenger cars, freight cars, boxcars, cabooses, maintenance-of-way, and more.
Exhibits on the history of the SD&A and other railroads
Exhibits on aspects of the long and colorful heritage of railroading and associated culture
Entertainment for the whole family; activities for children
Hoboes in their jungle sharing stories and songs
Music, including the City Guard Band playing the song written for the original Gold Spike Ceremony celebration
Food
Horseless carriages and classic cars from a bygone era. Optional period clothing.
Gift shop – Centennial Commemorative Program and souvenirs.
Picnic tables and playground.