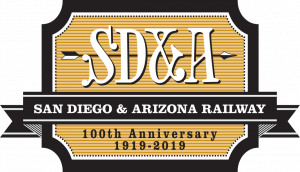 The San Diego & Arizona Railway's CENTENNIAL CELEBRATION DAY will be hosted on Saturday, November 16, 2019, at the Campo Railroad Park and Museum.
Come join us on Saturday, November 16th as we celebrate the 100th anniversary of the completion of the San Diego and Arizona Railway!  Experience the 100th anniversary celebration ceremony complete with a reenactment of the driving of the Golden Spike, some words from John Spreckels, and commentary from some more contemporary railroad executives.  Throughout the day, we offer train rides, hay rides, food and soft drinks, shows, and other activities.  A full itinerary of the day's events can be found here on the Centennial Day Schedule page.
Ticket Information
Whether you would like to join us for all our celebration has to offer or just drop by for the celebration ceremony, we have several ticket options to choose from.  Please click here to reserve your tickets today.
Event Admission Only
Those wishing not to ride the train may purchase event admission tickets.
Toddler (under age 3) – Free
Child (3-12) – $5
Senior (65+) – $8
Adult – $10
Lunch Tickets
Lunch tickets may be purchased in advance.  Catering provided by Descanso Junction Cafe.  Tickets for all persons are $16.50.
Train Rides
We're pulling out all of the stops to provide all of our first-class accommodations on our Centennial Day Trains.  Purchase of train ticket also includes entrance into the event.  Trains depart at 11:00 am and 3:00 pm.
Coach Class
Toddler (under age 3 riding in a lap) – $10
Child (3-12) – $19
Senior (65+) – $25
Adult – $28
First Class UP 576
Toddler – $15
Child – $24
Senior – $30
Adult – $33
First Class ATSF 1509 – SOLD OUT
Toddler – $15
Child – $26
Senior – $32
Adult – $35
First Class Robert Peary – SOLD OUT
Car Charter for up to 20 guests – $600.  Please email reservations@psrm.org for more details.
Thank you to our sponsor
     Cool-Roof Systems
Sponsorships at many levels are available for the SD&A Centennial.  To be a sponsor, please call (619) 606-6231 or email fundraising@psrm.org.
SD&A Groundbreaking Festival    (September 7, 2019)
Centennial Gala Dinner (November 1, 2019) ⇐soon!
SD&A Centennial Calendar of Events