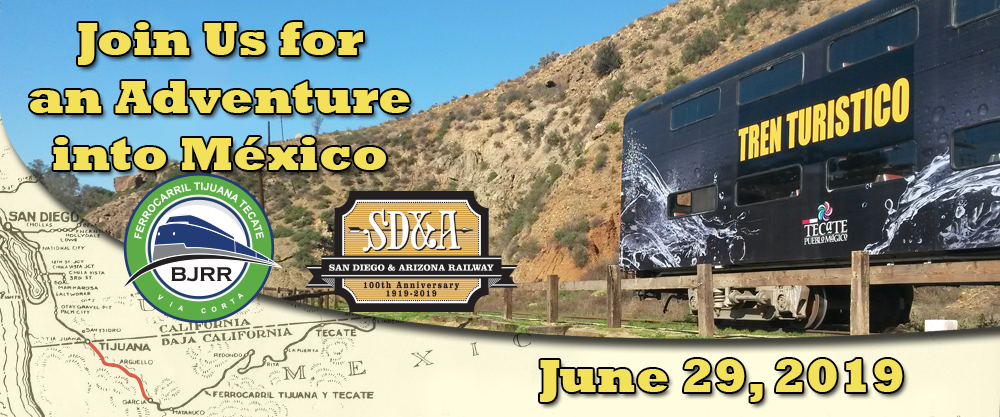 2019 is an exciting time of change for the San Diego and Arizona Railway line which connects San Diego with El Centro and points East.  Baja California Railroad (BJRR), a binational railway company, has taken over the lease on the Metropolitan Transit System's "Desert Line" and has plans to restore the line to its former glory once again.  Since the start, BJRR has included the Pacific Southwest Railway Museum Association (PSRMA) in its plans for the future.  As a "thank you" for the support PSRMA has given BJRR over the last few years and in celebration of the SD&A's 100th birthday, a unique binational event has been planned to celebrate our continued friendship.
Participants in the Adventure into Mexico will gather at the MTS's San Ysidro Transit Center trolley stop on the United States side of the border on June 29 at 10:00am to check in with PSRMA staff.  We will meet near the bus benches at the corner of E. San Ysidro Blvd. and Rail Ct.  After ensuring all participants have the proper passports, we will cross the border as a group and walk to Estación Tijuana, BJRR's brand-new corporate office and railyard located just a few steps across the border.  At 11:00am, we will board México's famed Tren Turístico (the "Tourist Train" for those non-Spanish speakers out there) for a 7-mile journey by train to Estación García over the historic SD&A subsidiary, the Ferrocarril Tijuana y Tecate (the Tijuana and Tecate Railroad).  This rare-mileage journey across northwestern Baja California will take us to BJRR's Estación García, the usual boarding spot for their tourist train located just a few hundred yards from one of their busiest transload facilities for freight of all kinds.
After arrival at Estación García, the festivities begin.  A true Mexican-style barbeque lunch will be provided by BJRR with freshly prepared carne asada tacos being the star of the show.  We hope that you will bring your biggest appetite to enjoy this truly authentic Mexican feast.  After lunch, we will take the train back to Estación Tijuana and walk back across the border into the United States.
Requirements
All participants in the Adventure into Mexico must hold a current passport or passport card.  All passports will be checked by a PSRMA staff member before you will be allowed to cross the border into México.
For your safety, participants must wear closed-toed shoes at all times while on this trip.  Railroad facilities and equipment have many uneven or sharp surfaces that are best navigated with closed-toed shoes.
Pricing and Tickets
$50 per person
Reserve your tickets today by clicking here!  A very limited number of tickets are available for this event.
Questions?
Any questions should be directed to PSRMA through our website's Contact Us page.