The Pacific Southwest Railway Museum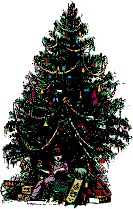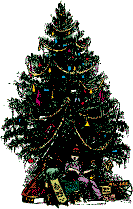 Presents
The North Pole Limited
a production featuring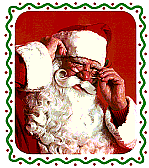 Santa and his Elves


Please celebrate the Holidays with us in this special production offered by the Museum and its volunteers in cooperation with the Mountain Empire and Bonita Vista Valley high schools.

Quick link to Santa's Frequently Asked Questions
This year the Santa Train North Pole Limited will run on the dates listed below.
Reservations are required (at Santa's request) for all trips and are available for purchase now.

Tickets will be available for purchase by the general public on August 15, 2014. Museum members and volunteers are invited to purchase their seats at this time. Everyone is invited to become a member of PSRM to help us preserve our living-history railroad museum for future generations. Membership information is available here.

Seating Choices

Coach – the Museum's regular excursion cars
UP #576 – a premium chair car with larger seats and more legroom than coach

Complimentary non-alcoholic beverages will be served to passengers in this car

ATSF #1509 – a luxury cafe/lounge car with an open observation platform on one end

In previous years, this car was used for Santa's "First Class" seating

Special Note from Santa:
Please click on the desired date & time below to select your seating and place your reservation with the Museum's on-line ticketing system. Your purchase confirmation will be emailed directly to you. Please bring your printed confirmation with you on the date of your trip, the Campo Depot Station Master will give you your tickets.

You have to enter your email address correctly on the reservation form! If you don't, Santa won't be able to email your purchase confirmation to you. You will then have to email him at North Pole Depot to convince him that you really purchased tickets and request that he make a special effort to deliver your confirmation. It's never good to rile up Santa, so please make sure you enter your email address correctly!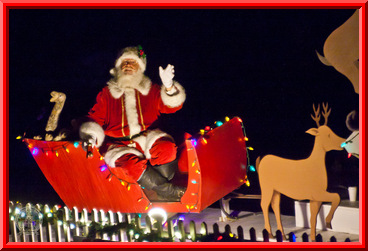 All trains will be leaving from the Campo Depot. The Depot
will be open two-hours before departure time on excursion days. Please plan on being
at the Depot at least 45-minutes before your scheduled train departure.
Museum members have an opportunity to place reservations before the general public.
Everyone is invited to become a member of PSRM and help preserve our living-history railroad museum
for future generations. Membership
information is available here or when you click on the
excursion date links above.

The fun begins at the lighted Campo Depot with fun and good cheer.
Once the Limited leaves the Depot Santa's Elves will serve cookies and
hot chocolate. The Elves will visit with the passengers
as the Limited rockets toward the North Pole.
An on-board book reading of a popular Christmas story leads up to the magical arrival at Santa's Workshop, where the train will stop just long enough for Santa to board the train for the return trip to Campo. Santa will visit with all the children on the train so please have your cameras ready.

The Elves invite the children to wear their pajamas,
just make sure they're dressed warmly!


Reservations are Required in Advance

Check here to see one of our Santa Train North Pole Limited photo pages.
Also check our Additional museum photos collection for many more Santa Train photos.
Santa's Frequently Asked Questions
Questions
Answers

Will our tickets be mailed to us?

No. Just bring your emailed reservation confirmation with you to the Campo Depot. Your tickets will be waiting for you there.

Why didn't we get our emailed confirmation?

Santa uses an Automatic Elf to email your confirmations. You

MUST

enter your email address correctly for this to work. Santa may know where you live, but his Elf doesn't!
If you've been naughty and entered a bogus address on your order form, please send an address that will work to
Santa and he will instruct his Chief Email Elf to try again.

My email address is correct, but I still didn't get a confirmation?

Believe it or not, some folks, especially those with Earthlink accounts, refuse to accept email from places they don't authorize in advance. Please don't expect Santa's Chief Email Elf to make special arrangements to get your confirmation to you (see the previous FAQ). You will not receive a confirmation if you disallow email from Santa. But don't despair! You can check in at the Campo Depot on the date/time of your excursion and request your tickets by name. You should also double-check your email spam folder if you do allow email from Santa and you didn't receive your confirmation.

What time should we be at the Campo Depot?

Santa doesn't want to see you miss his train, so plan on
being at the Campo Depot at least 45-minutes before your departure time, especially if you haven't been to Campo before.

How long is the ride?

Plan on about 90-minutes for the ride, but it may take
longer for Santa to see all the kids and have his photo taken with them. The train should be back in Campo less than two-hours after your departure.

But how do we find the Campo Depot?

Here's a map link to the Depot.
Map Note: Please do not trust the driving directions given by
mapping services or GPS navigation devices to find your way to the Campo Depot. Some services
are known to be accurate, others are not.
Check the driving directions and map given here as a cross-check if you will
be using computerized navigation assistance to locate Santa's train.

Should the kids wear pjs?

Sure, just make sure they're dressed warmly!

We purchased our tickets at different times. Will we be able to sit together?

This shouldn't be a problem. Just make sure you're all together before you board the train.

What happens if it rains?

Santa will run these trips regardless of the weather. Rain, snow, it doesn't matter, the trains will run.
All windows in the passenger cars are covered (no open windows) and you may wait in your automobiles until boarding time if necessary. Sorry, no rain refunds or reschedules.

What if we get hungry?

The Depot Gift Shop has light snacks for sale. You
may also bring a picnic dinner with you to eat on the train if you'd like.

Can we return our tickets?


All sales are final. However, we understand that unplanned emergencies arise from time and time and could interfere with your plans to ride a train with us. If you give us at least 30 (thirty) days advanced notice, we will be happy to:

Accommodate one reschedule of your visit, subject to availability, to an equal or lower priced trip. The cost difference between the price paid and a lower priced substitution will not be refunded.
You may substitute another party(s) in your place.

Can we become a member of the Museum to qualify for early ticket purchase?

Yes. Santa and the Museum hopes that you will become active members and volunteer in the future to help the Museum with their programs.  For more information, please visit the Become a Member page and the Volunteer page on our website.

When can we reserve seats for next year?

Check the Museum's Web Site in July for scheduling and reservation information.
Also note that Museum volunteers and members receive advance notice of special excursions. Santa recommends joining the Museum to get
a jump on next year's trip.

---

The Museum wishes to thank its corporate sponsors for their helping Santa with his
North Pole Limited.
Santa can always use help with his trains; if you are interested
in corporate sponsorship, please send a note to Santa