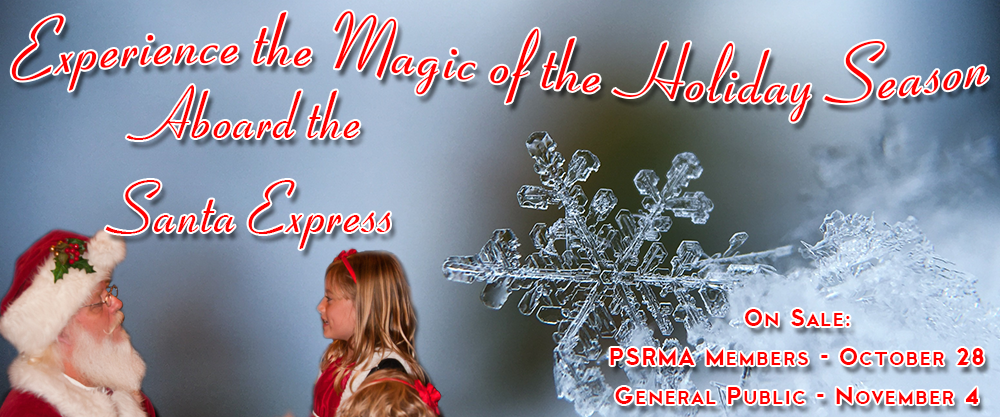 The Pacific Southwest Railway Museum Association invites you to join us for a socially-distanced daytime train ride and holiday cheer aboard the Santa Express!  This event is not our usual North Pole Limited event.  Please read the event details carefully.  We hope you will join us.

The fun begins at the Campo Depot. Pick up your tickets from the Ticket Agent in our restored passenger waiting room. We recommend you plan on arriving at the Campo Depot at least 30 minutes before your train departs to allow ample time to park, get your tickets, and pass through our gift shop.
Once onboard, the Santa Express will take you on a 30 minute train ride in the beautiful mountains of East County.  Enjoy holiday music and decorated cars as we glide down the rails.  Due to restrictions placed upon us by the County of San Diego, onboard activities will be extremely limited to promote social distancing.
At the end of your train ride, the Santa Express will let you off at our decorated Display Building.  Tour our exhibits and visit with Santa.  To get back to the Campo Depot, you can catch a ride on our Caboose Shuttle or take a stroll to return to your vehicle.
Seating Choices and Fares
Due to our vigorous sanitization standards, we are unable to offer First Class tickets on this year's Santa Express.  Passengers riding the Santa Express will enjoy riding in our restored 1920s vintage commuter coaches.
Coach Fares for the Santa Express Start At:
Toddlers (under age 3 riding in an Adult's lap) – $5
Children (ages 3 – 12) – $16
Seniors (ages 65+) – $23
Adults (ages 13-64) – $25
Note: Tickets for train rides departing closer to Christmas Day will be higher in price than these starting fares.
Wheelchairs and Other Mobility Equipment
PSRMA makes every effort to provide assistance for the mobility impaired on our trains.  However, our passenger cars were designed before wheelchair access was mandated by law.  Large wheelchairs, power chairs, walkers, scooters, and other mobility devices may not fit through the doorways or aisleways of certain passenger cars.  It may be necessary for mobility-impaired passengers to walk through doorways or down a hallway under their own power with the assistance of one or more Museum personnel.  A wheelchair lift is available at the Campo Depot, but not at the Display Building.  Please email reservations@psrm.org if you have additional questions or need to verify the size of your mobility equipment.  We recommend that those with mobility impairments arrive at least 40 minutes before their train ride to allow extra time for boarding.
Reservations
Tickets for the Santa Express must be purchased in advance.  As an added bonus, Pacific Southwest Railway Museum Association members have the opportunity to purchase tickets before they go on sale to the rest of the general public.  An email reminder will be sent to all active members soon.  There are many additional benefits to becoming a member of the PSRMA including access to the Hot Scoop – our events newsletter, gift shop discounts, and the ability to volunteer at the Pacific Southwest Railway Museum or the La Mesa Depot in La Mesa, CA.  To become a member of the Museum today, please click here.
Note: All trains depart from the Campo Depot located at 750 Depot St., Campo, CA 91906.
Online Ticket Sales close 2 hours before train departure.
Trains depart at 10:30, 11:30, 1:30, 2:30, and 3:30.  When selecting your travel date, click on the View More Events link to view later departures.
Late Arrivals
Tickets which have not been picked up from the Campo Depot within 10 minutes of departure time may be resold.  Those arriving later than 10 minutes prior to departure will have the option to ride a later train if space is available.  We do not guarantee seating on later trains to those arriving late for their scheduled train.